The Book Case
Polly Checkland Harding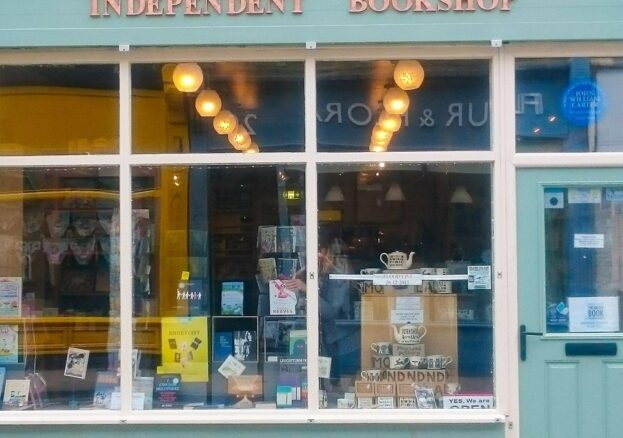 Twice shortlisted for the Independent Bookshop of the Year Awards, The Book Case in Hebden Bridge stocks a wide range of fiction and nonfiction titles for both adults and children, as well as literary themed gifts and stationery. This popular bookshop also hosts regular events, including book launches, poetry nights, discussions and book signings, drawing high-profile authors from across the literary spectrum to Hebden Bridge. Firmly rooted in the town's community, The Book Case works hard to promote and support the work of local poets and writers, of which there are many, as well as Hebden Bridge's history society and nearby schools.
The shop's place in the hearts of the local community was never more evident than in the aftermath of the flooding that hit Hebden Bridge on Boxing Day in 2015, causing devastating destruction. The Book Case was filled with five feet of water, over two feet above the highest levels it had been prepared for, ruining the entirety of the stock and leaving thick black mud in its wake. Once the floods had passed, the owners were overwhelmed by the messages of support they received, the number of people who came to dig out the sodden piles of books, and those who rallied the rest of the book trade to the shop's aid. With the help of donations, a signed book auction, a £5,000 grant from the James Patterson fund and even gifts of absorbent paper towels, The Book Case recovered, installing new flood protections – including a new sign that doubles as a flood barrier.
Today, it's as popular as ever, continuing to contribute to Hebden Bridge's long literary history. The former poet laureate Ted Hughes was born under two miles away, in Mytholmroyd, and Sylvia Plath is buried in the churchyard at Heptonstall, just above the town. This legacy continues today through the efforts of organisations including multi award-winning independent local publisher, Bluemoose Books, which The Book Case has a strong working relationship with. Long may Hebden Bridge be a mecca for writers and book-lovers alike – and long may The Book Case go on meeting the needs of both.