Woody's Pizza
Polly Checkland Harding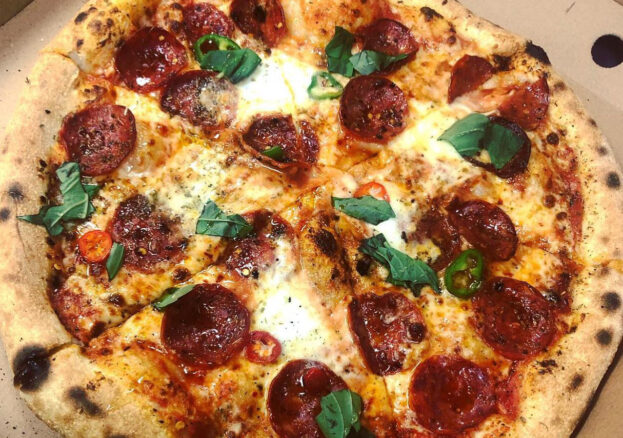 Woody's Pizza, on Crown Street in Hebden Bridge, posits itself as a refreshing slice of dining amid a busy scene of pizza go-to's. Neapolitan pizza has dominated the restaurant scene over the last five years, filling column inches with debates over which dough has the best stretch, which base the best 'leoparding'. Now, it's time to pay attention to the Neapolitan pizza's American cousin, because handmade 12 and 14 inch New York-style pizzas are the raison d'etre here. There's not a wood fired oven in sight – in fact, the website points out that the restaurant's name comes from the owners' dog, not the fuel source for cooking. Instead, freshly-made dough is topped with Woody's Pizza's in-house sauce and lavishly dotted with extra ingredients; vegetables are sourced from local farmers, the cheese from market traders.
Woody's Pizza, then, takes both its dishes and its role within the community seriously. A real living wage employer, the company will be using recyclable food packaging and supports the local food drop-in in Todmorden, the restaurant's first home. This is an eatery with a comedic side though too: the pizzas on both the main menu and specials are given irreverent, pun-based names, such as the Absolute Banger, topped with vegetarian or vegan fennel sausage, vegan or regular mozzarella, roasted green peppers, chilli oil and fresh basil. There's also the Legalise Marinara (mozzarella, semi sun-dried tomatoes, pesto, chopped garlic and fresh chives), Carbs Before Marbs (mozzarella, Italian tomatoes, chorizo, roasted red peppers, olives, garlic and parsley aioli stripes, manchego) and Cheesus Crust! (mozzarella, Italian tomatoes, red onion, Monterey Jack cheese, cheddar, Parmesan crust and rosemary), to name a few.
Woody's Pizza is equally proud of its crack fries and garlic bread, serving up Northern Bloc ice cream and donuts for dessert. This is all pure indulgence, but well made, from local ingredients and an independent company. All hail Woody's Pizza!