Tre Ciccio Altrincham
Ian Jones, Food and Drink Editor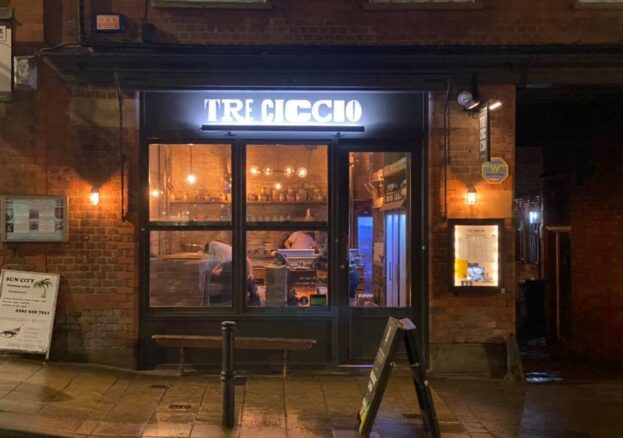 Tre Ciccio Altrincham launched in the summer of 2016 and has gone on to become a firm favourite among fans of Italian food in the North. The idea was sparked off by a meal at the acclaimed La Terrazza restaurant in Calvanico, in the Campania region of Italy and resulted in this delightful restaurant on Moss Lane in Altrincham, a short walk from the famous market.
The menu is proudly Neapolitan, with a handful of key sections: antipasti, salads, Italian-style roast chicken and potatoes, sides, and of course, their legendary pizzas. Indeed, in 2018 their chef Luigi Marino was declared National Pizza Chef of the year by the widely-respected Casual Dining Magazine.
These pizzas are made using a specific kind of slow-rising dough and cooked according to finely-tuned methods which results in a soft, light, delicious pizza crust.
An authentic experience with a wide-ranging menu that demands repeated visits
The sauce is made from a combination of San Marzano tomatoes, extra virgin olive oil and basil – sweet and full of flavour. Choose from a dozen or so different styles of topping, then eat in the Neapolitan style: fold in half and tuck in. The types of pizza range from the traditional Margherita to the hot and spicy sud, which includes Calabrian nduja teamed with soft, creamy Apulian burrata.
The chicken section of the menu is inspired by restaurants in Southern Italy serving 'pollo scucchito', award-winning farm-reared chickens coated in a secret marinade then cooked in a huge wood fire oven. And of course, there's the comprehensive antipasti section, containing all the Italian classics, such as arancini (rice balls), rotolini (baked pizza bites) and various cured meats and cheeses.
A visit to Tre Ciccio is to find your own bit of Italy in the North-West. It's an authentic experience with a wide-ranging menu that demands repeated visits.