Moss Studio-Store
Carmel Smickersgill, Tours & Activities Editor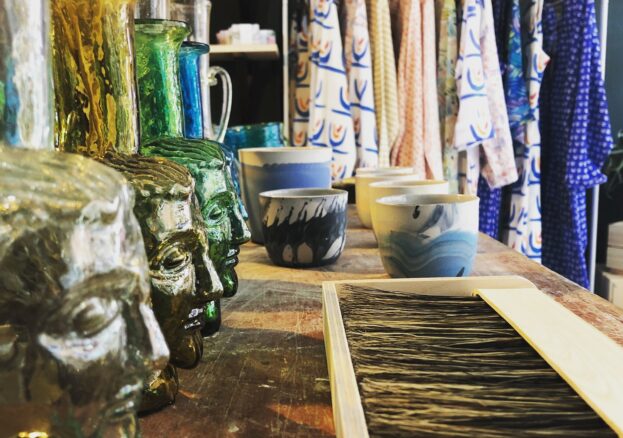 Moss Studio-Store is a brand new 10-seat pottery studio nestled into the beating heart of Altrincham. Run by keen ceramicists, they offer a plentiful selection of ceramics classes. No matter your age, ability or experience there will be a class suited perfectly to your ceramic ambitions.
learn and create as a group
As well as being an excellent creative outlet learning the skills of hand-building, designing and throwing pots is an excellent mindful activity. The concentration required and slow yet satisfying nature of clay, allows you to leave your stresses in the street and immerse yourself in a project. Whether you're making a piece for your own home or a unique gift for a loved one it's a highly relaxing pastime.
Classes vary, some courses stretch over multiple weeks whereas some are led in more of a one-off workshop format. Individuals can meet like minded creatives on courses, getting to learn and create as a group. Alternatively, if you're already organised into a group you can book a shared experience and learn with your friends or family. If you're keen to turn a ceramics hobby into a serious pursuit they do offer one on one sessions in the form of private tuition at the wheel, where you'll learn to throw pots.
the slow yet satisfying nature of clay
In every session all the materials and equipment are provided by Moss Studio, so you can get on with having fun. As the studio only accommodates 6 potters at a time, you can guarantee that you'll receive generous amounts of individual attention, giving you a solid grounding to build up technical skill while you work on a project.
As well as classes, Moss Studio-Store includes a beautifully curated gift shop, showcasing some of the best handmade products, made by artists and makers who place ethical and sustainable means of working at the forefront of their practise. Each item has been chosen for its uniqueness and style. Within the shop you'll find Ceramics, Hand blown glassware, Clothing, Jewellery, House Plants and Homeware.
Go see the curious collection for yourself next time you're in Altrincham.