Two Brothers Coffee
Ian Jones, Food and Drink Editor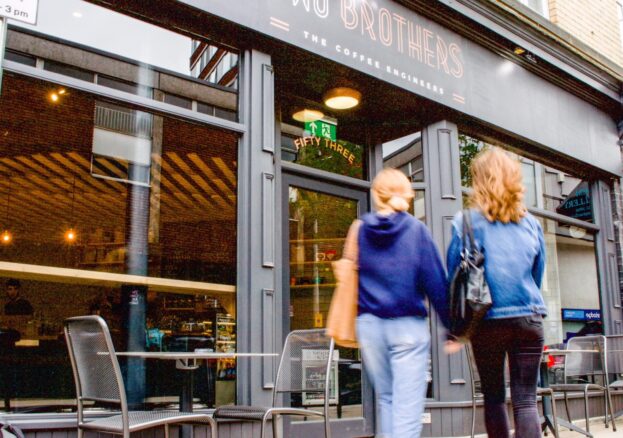 Midway down Stamford New Road, you'll find Two Brothers Coffee, one of Altrincham's very best speciality coffee outlets. Established in 2017, the aim was to create one of the finest cafés in the North West and now in 2020, it's fair to say the goal has been achieved.
It's great looking space, full of modern design features that make the most of the wealth of natural light, plus hand-painted signs and an old-school but high-end feel thanks to the heavy wood tables and dark decor. This is the kind of place you could spend all day at, whether relaxing with friends, writing a novel, or simply watching the world go by.
And what the Two Brothers team don't know about coffee isn't worth knowing. Here you'll find all kinds of state-of-the-art equipment, tailored to producing the very best cup of coffee, no matter what your favourite blend. You'll find a wide range of roasters to try, including Origin, Lancaster's Atkinsons and Ancoats Coffee, with the odd guest appearance from other less-well-known but equally satisfying names.
When it comes to the very best speciality coffee in Altrincham, Two Brothers is hard to beat
The friendly staff are more than keen to guide customers towards the style that suits them best, whether you want a quick espresso, a casual cappuccino or something more outre. They even put on home brewing workshops for those people who want to take their coffee know-how to the next level, plus you can get fresh roasts delivered right to your door with the Two Brothers online subscription service.
It's not all coffee, you'll also find a great selection of cakes to choose from, plus a meticulously-curated soundtrack that taps right into that clean, caffeine-honed buzz. When it comes to speciality coffee in Altrincham, Two Brothers is hard to beat.