John Rylands Research Institute and Library
Susie Stubbs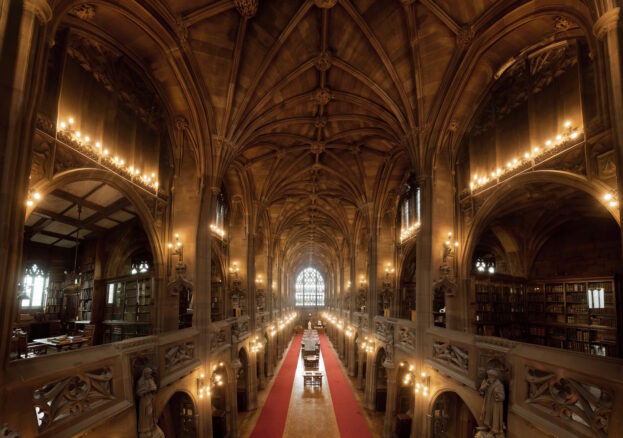 Opened in 1890, this neo-Gothic building says much about Manchester's industrial fortunes. It was modelled on a traditional Oxford college library, but put together on a grand Mancunian scale. It cost £230,000 and nine years to build. It had air conditioning, electric light and dust-resistant bookcases. And it was commissioned by a grieving widow, Enriqueta Rylands, in memory of her husband, a man of religious conviction, a philanthropist of Victorian ambition and a remarkably successful textiles manufacturer. He must have been: it was his money, after all, that paid for the construction of the library and for the purchase of the theological and scholarly collections that originally stacked its shelves.
Although it is easy to wax lyrical and at length about the building itself, as impressive as its architecture are its collections: the rare printed texts that include preserved papyrus fragments, the letters of local author Elizabeth Gaskell and an original Gutenberg Bible. Part of The University of Manchester, over 250,000 items are stored here – spanning five millennia – alongside a further one million manuscripts and the archives of local families of note, including the letters and documents of the Earls of Stamford (of nearby Dunham Massey fame).
John Rylands Research Institute and Library boasts a well-stocked shop and café, an ideal spot for a cup of tea – with regular exhibitions and events also running throughout the year, it's a destination venue for locals as well as visitors to the city. Just to stand in its glorious Historic Reading Room, surrounded on all sides by books, stained glass and statuary, is one of the greatest thrills of literary Manchester.