Byron Burger Manchester Deansgate
Kate Feld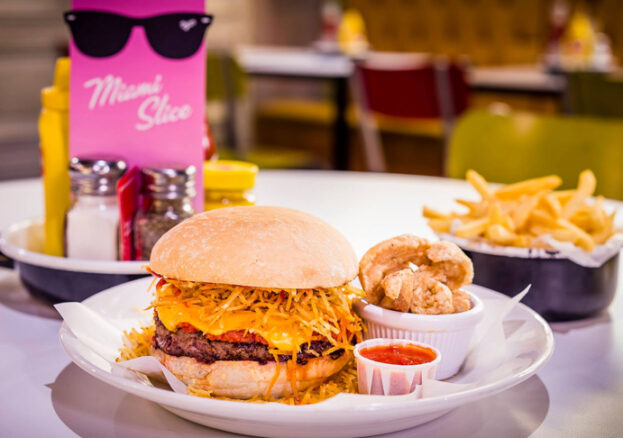 Even the biggest meatheads among us greet news of another burger restaurant opening with a yawn (and a burp) – but Byron Burger's new Deansgate outpost shows them all how it's done.
I am having a deeply moving experience on Deansgate. It's kind of like Proust and his tiresome old madeleines, but it involves an A&W Root Beer Float. I pour the soda into the tall glass and watch the beige bubbles bloom as it hits the vanilla ice cream. One sip from the straw transports me back to the Vermont restaurant my parents ran for most of my childhood, where root beer floats were always on the menu, simply because my mother, who ruled the kitchen, had a weakness for them.
She would have loved Byron Burgers. Manchester is home to the newest outpost of this much-lauded London chain, largely credited with starting the craze for American-style ground beef in a bun currently sweeping the nation. For the last year or so we've had 'em for breakfast lunch and dinner – gourmet burgers, dirty burgers, artisan burgers  –  to the point where even the biggest meatheads among us greet news of another burger restaurant opening with a yawn (and a burp.) Well, I apologise profusely, Byron whoever you are. Because after eating at your place I understand that you are the man. You serve your burger with a half sour pickle. You give it to us straight: pure beef, cooked pink, in a squashy bun that gets out of the way and lets the meat do the talking, with our choice of cheeses and squeezes. And you do it without making us complicit in any gross and misogynistic dudefood wankery. I think you should probably be knighted for services to the British catering industry.
Byron Burgers give it to us straight: pure beef in a squashy bun that lets the meat do the talking
But what of the fries, I hear you say? The fries are McDonald's-style frites, and I could find no fault with them. Don't freak out if you're one of those misguided souls who prefers fat chips, they do those, too – correctly, with the skin on. The onion rings were the best of all: pillowy golden brown halos of delicious grease. Even a side order of the often-messed up macaroni and cheese was impeccable, with the tang of good mature cheese and a crusty top. The menu doesn't try to do too much: burgers (£6-10), sides, some big salads and a few solid desserts – my caramel and honeycomb sundae was a simple thing done well, with good quality ice cream. And if root beer doesn't float your boat, there's a nice selection of craft beers to wash it all down.
Going for this location on the corner of Deansgate and John Dalton Street was a canny move, as the sheer density of shops and offices nearby give it much broader footfall than, say, the Northern Quarter. The fit-out is a study in salvage chic: bare plaster and tile walls livened up by yellow ductwork and mismatched vinyl booths, with an open kitchen and a well-curated soundtrack. A big stack of high chairs and some brilliantly psychedelic pictures for kids to colour in attest to its family cred. The waiting staff are friendly types who will happily volunteer their own weird predilection for eating mac and cheese with barbecue sauce (actually pretty good; I tried it). Given all of the above, it's no surprise that at 5:30pm a few days after opening it's already more than half full. This place should make a killing. It's not every day that I thank a London outfit for coming up to Manchester to show us how to do things properly. But I'm saying it now. Thank you Byron, whoever you are.
This is an independent review, but our writer didn't pay for her meal. For more info on our editorial policy, read our About page.