Gusto
Polly Checkland Harding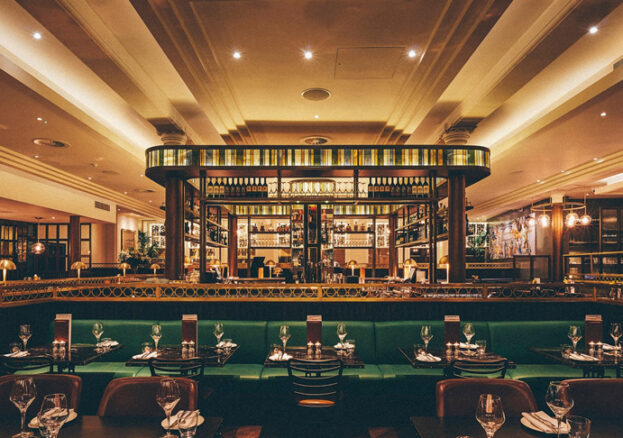 This Italian restaurant just off Deansgate is stunning on the surface, but does it deliver behind scenes? We found out.
It might sound coarse, but there's something to be said for judging a restaurant by its toilets. Walk into most new openings and you can practically see the price tags fluttering from leather booths, quirky lighting and designer signage – but if the W.C. is more outhouse than powder room, it lets down all that glitz. And while it might not end up making a difference to the meal, it can, as in the case of the new Manchester branch of Gusto, signal potential attention lapses. The women's loos at Gusto are, for example, vault-cold and behind two dauntingly heavy doors. Would this mean inadvertent slips, despite the otherwise welcoming surrounds and a bobby-dazzler of a pre-dinner cocktail?
Gusto does have a restrained grandeur that can be hard to find in Manchester. Elegantly bedecked in deep greys and greens, with dusky gold accents and dark wood, it feels like the kind of place where you could kick back in a feathered headband and spats. Nostalgic for saucers of wine and questionable etiquette, it felt borderline uncouth to eat the garnish on my excellent cherry and coconut sour. Maybe this was somewhere that was just better; the sleeker, more sophisticated sister to other neon-trashy eateries. But then came a hiccup with the food. As any Masterchef devotee will know, plate smears and fingerprints are a big no-no; unfortunate, then, that the ceramic my burratina mozzarella starter sat on looked like it had been handled by a toddler.
Gusto feels like the kind of place where you could kick back in a feathered headband and spats
It was, however, beautifully dealt with – whisked away and replaced within the space of five minutes, while the manager ankled over at least twice to apologize. The food itself was a good antidote: the perfectly creamy mozzarella elevated by fragrant cumin crisp bread and pickled raddichio, while my companion's leek and prosciutto starter was reassuringly luxurious. We began to relax.
For mains, our waitress suggested two half plates when she spotted me dithering, which was how I ended up with one totally moreish, peppery risotto with chestnut and oyster mushrooms and truffle butter, and one sadly insipid tagliatelle. There didn't seem to be a point to the latter, which, though liberally chunked with truffle (and what a ceremony that was – glass cloche, plush cushion and white gloves), tasted emptily indulgent. My companion's five scallops, resplendent on a glass platter, were more appealing, if not as inspired as they might have been by their spinach, pepper and hazelnut butter dressing.
Redemption came in the shape of dessert, and a closing cocktail. Not for the tight-of-waistband, the gluttonous Nutella calzone was chocolate-filled and pasty-shaped, and mercifully offset by vanilla ice cream. It's this kind of highlight that I suspect Gusto's menu is scattered with; my prediction is that this will become a place of favourites, with glitches ironed out over time and, perhaps, extra radiators in the ladies. In the meantime, it's a humdinger joint for a cocktail.