The Gissing Centre
Polly Checkland Harding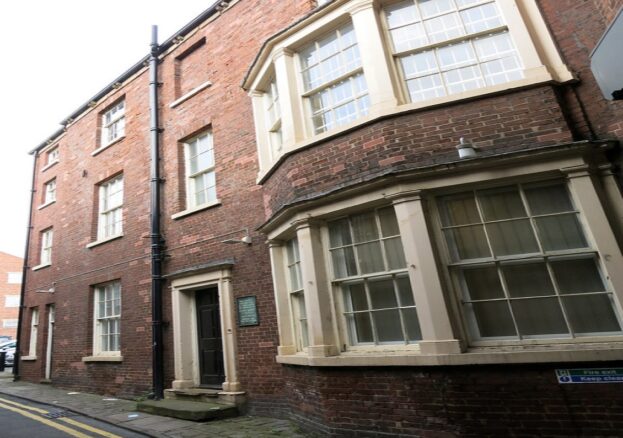 The Gissing Centre is housed in the childhood home of renowned Victorian author George Gissing, relatively unknown today, but whose popularity once rivaled that of Charles Dickens. 'I am ready to maintain that England has produced very few better novelists,' George Orwell claimed, and Victoria Woolf called Gissing a 'born writer'. Gissing penned 23 novels, around 100 short stories and two studies of Dickens, and lived as a boy behind his father's chemist shop in this Georgian house in Thompson's Yard. He left Wakefield as a young man, but recalled his experiences of the city in his writing – particularly in his 1888 novel A Life's Morning, in which the places and settings of the book are modelled on Wakefield's buildings and landmarks.
The Gissing Trust was founded in 1978 by Wakefield Historical Society, Wakefield Civic Society and others to acquire and preserve Gissing's childhood home, where family memorabilia, books, photographs and manuscripts are now on display. An explanatory video explores Gissing's links with Wakefield, where there's a road named after an author who's otherwise broadly been forgotten – despite being regarded as one of the leading English novelists of his generation. Gissing was friends with fellow writers H.G. Wells, Henry James and Thomas Hardy, all of whose reputations have proved more durable.
Gissing's writing was characterised by unflinching realism regarding the life of the working class in England, partly informed by the near poverty and drudgery he experienced whilst writing and teaching. He wrote one or more books a year between 1886 to 1895, often heavily autobiographical, and including storylines that were shocking at the time; in one, the heroine is a prostitute who's held up as a moral exemplar. The Gissing Centre in Wakefield is a fantastic introduction to a man influential in his time, and still revered by a faithful few.