Corarima
Polly Checkland Harding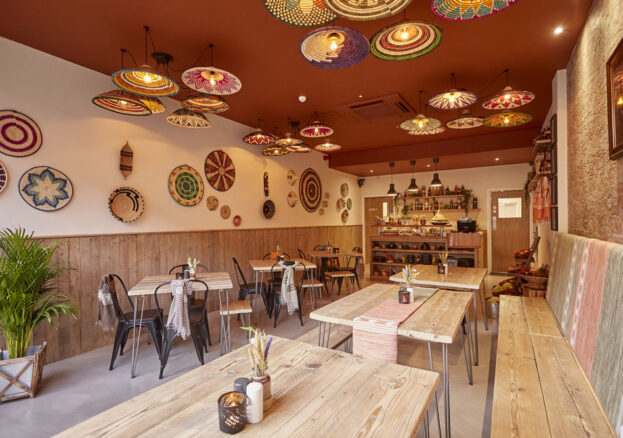 Setting out to be 'your local African restaurant', Corarima specialises in Abyssinian cuisine, carefully prepared by Ethiopian and Eritrean chefs. The menu here is 100 percent gluten-free and features African specialities including injera, tangy leavened pancakes that are used instead of a plate and cutlery, and made from the ancient Abyssinian grain teff – which is sugar-free, and rich in protein, calcium, iron, fibre and folic acid. The flavours of Corarima's food are distinctive, combining spice, smoke and warmth; the berbere spice mix here contains lesser-known Ethiopian spices such as corarima, from which the restaurant takes its name, as well as rue, ajwain and nigella.
Awarded Restaurant of the Year by the Wakefield Civic Society in 2020, Corarima is decorated with elements of Abyssinian art, the pale wooden tables striped with woven runners and the ceiling hung with colourful patterned lampshades. It's an inviting environment in which to enjoy coffee served from a traditional pot and an array of starters that include sambusa, a fried pastry shell with onion, lentil, carrot and cabbage stuffing, kategna, fresh and crispy injera soaked in seasoned spiced butter or olive oil, and azifa, a spicy green lentil stew with tomato, parsley and a hint of garlic that's served cold. These, along with the restaurant's vegan combination dishes for two or four people, chosen by the chef, are perhaps the best introduction for those new to this style of cooking.
Alternatively, take your pick from an abundance of stews, whether focussed around pulses or vegetables. These showcase humble ingredients such as chickpeas, red split lentils and potatoes, elevating a vegetable medley with carefully chosen spices and cooking techniques. They are hearty and filling, but unafraid of complex flavours. The chefs are happy to increase or decrease spiciness on request, and there's a list of natural and herbal drinks to accompany the dishes. For a cuisine that's less commonly represented, and beautifully executed here, come to Corarima.