Frank Bird
Polly Checkland Harding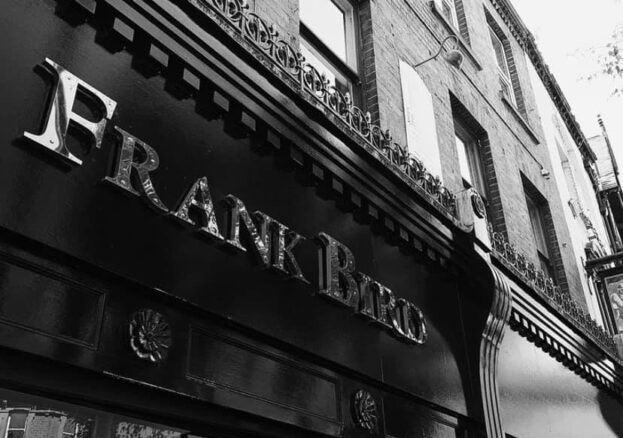 This premium menswear brand has a long history, reaching back to its beginning at the start of World War II. Founded in the market town of Barnsley in South Yorkshire at the outbreak of war in 1939, the clothing shop was relaunched in autumn 2019, both at the original site in Barnsley, and with this second store in Wakefield. Located on Cross Square, at the other end of the street from Wakefield Cathedral, Frank Bird showcases the finest menswear collections from around the globe, including brands like Hugo Boss, Emporio Armani, Paul Smith, Belstaff and more. This is the home of high-quality, clothing, footwear and accessories for men – everything from shirts to socks.
The shop has an elegant facade, with decorative features and painted in restrained, dark blue-black hues. The emphasis in-store is on excellent customer service, and on fostering repeat customers: there's a loyalty membership scheme in place, offering rewards for purchases made in the shop itself and priority access to sales and promotions. There are also formal hirewear services in store for all occasions, including a premium tailcoat and lounge suit packages, as well as Prince Edward and evening suit packages. Those unsure what to buy a loved one can purchase an in-store gift card.
Frank Bird is surrounded by a small hub of some of Wakefield's best cafés and restaurants – handy if you're looking to pair shopping with a drink or bite to eat. Diagonally opposite is the much-loved Marmalade on the Square, a popular tea room with a homely feel, serving food from mismatched china and selling award-winning preserves alongside gifts and homewares including vintage treasures. Also nearby are Qubana, a tapas and grill restaurant combining the Latin flair of Cuba with the flavours of Spain, Smokehouse, a modern American BBQ restaurant with its own secret spice and herb mix, Corarima, a gluten-free, vegetarian restaurant specialising in authentic and delicious Abyssinia cuisine, and Rustico, which serves simple authentic Italian food made using local ingredients where possible.