Rustico
Polly Checkland Harding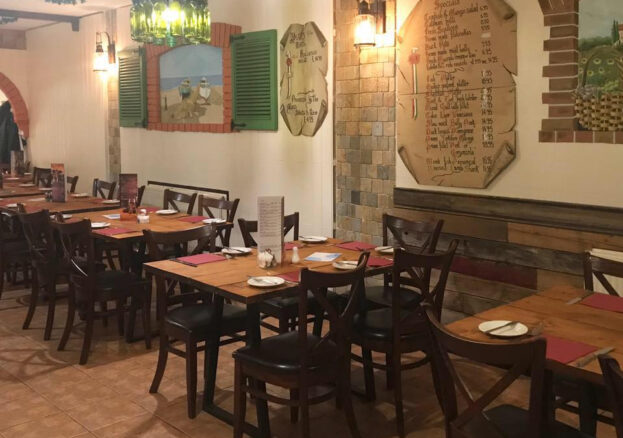 If you believe that Italian food is best served with absolute authenticity, in a traditional, rustic setting, Rustico is your kind of place. Filled with wooden tables and chairs, Rustico has murals framed with painted shutters and plasterwork in the shape of a wagon wheel on its walls. This small restaurant in Wakefield city centre fills fast, as people are drawn to the generous portions and friendly staff inside. There's a private dining room for birthdays, weddings, christenings and other special occasions in the function room above the main dining space, where up to 35 guests can choose from the main menu, or request a set menu or buffet. A selective list of dishes might actually be a blessing – for the diners downstairs there's almost too much choice provided by the prolific chefs.
At the time of writing, these include 20 starters, ranging from the simple soup of the day through to deep fried brie in cherry sauce. Salads and risottos follow, including paella, a seafood marinara and a house recipe with rice, onion, peppers, chicken, bacon, mushrooms and cream. Rustico has a commendable selection of vegetarian plates, with dishes dotted throughout the menu as well as having a dedicated section. There are 14 different pastas on offer, including regional selections such as cannelloni napoletana and bolognese, and even more 12" pizzas – with an incredible range of toppings, from smoked salmon to bacon, aubergine and chilli. Gamberoni or king prawns feature heavily on the fish section, while sirloin steak in a suite of different sauces is the meat offering (chicken and veal are listed separately).
It's a full journey through Italy's cuisine, a comprehensive menu that's even supplemented by the restaurant's specials. Rustico is unabashed in its food offering – and so it should be. It's located amongst some of Wakefield's favourite restaurants, each doing their own thing. Smokehouse, two streets over, champions its own secret blend of spices and a smoker imported from the U.S., Corarima specialises in Abyssinian cuisine and Qubana fuses Latin influences from Cuba with the traditional flavours of Spain. It's a culinary melting pot in which Rustico more than holds its own.