The Discovery Museum
Creative Tourist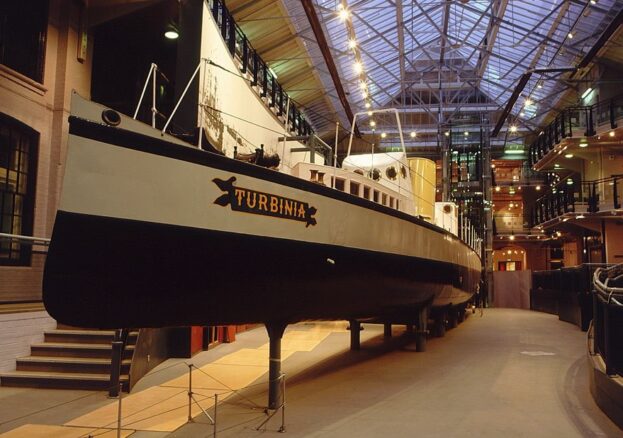 Newcastle has been a place of innovation for centuries, home to a series of inventions that have shaped the world and housed in a building that started as an office for the Cooperative Society, The Discovery Museum tells you the whole story. Inside, you'll find exhibitions on Tyneside's industrial history, from railways to shipbuilding and the world-changing discovery of the electric light bulb. You can find out about Newcastle's global impact in ways that are engaging and fun for the whole family.
As you enter the building you are greeted by the Turbina, the fastest ship in the world when it was built, and the first to use turbines to propel it through the water. You can guide yourself through the story of Newcastle, from the first foundations of the settlement on the Tyne in the Roman period through to the modern-day. The story of the Tyne tells how Newcastle became the world's shipyard, providing ships to the entire world, while Tyneside Challenge displays many of the inventions that came from the region – such as Stephenson's Rocket, the windscreen wiper and Lord Armstrong's innovations in pneumatics (enabling modern-day cranes and lifts), all for you to explore and discover.
Find out about Newcastle's global impact in ways that are engaging and fun for the whole family
The region continues that story of invention with the Invent Space and Play Tyne areas for children. Surrounded by world-changing innovations, young people can explore the idea of creating and inventing with the materials provided by the Museum.
The Discovery Museum also has great exhibits to show how our world has changed, including archive recordings of working people over the years and Destination Tyneside, explaining how people from all over the world have travelled to Newcastle to start a new life and become a part of the North East of England.
The Discovery also has the regimental history of the North East Cavalry – the Light Dragoons and the Queen's Own Yeomanry. From historic engagements such as the Battle of Waterloo through to modern-day conflicts in Iraq and Afghanistan, learn about the soldiers from the North East of England and their service and bravery. The discovery museum has enough adventure for several days, making it a great destination for families.