Phipps Hall
Johnny James, Managing Editor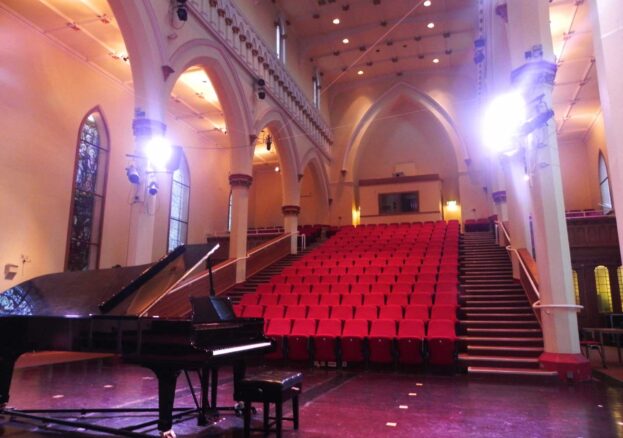 Housed in the Music Department at the University of Huddersfield, Phipps Hall is an intimate concert venue that hosts a wide variety of musical events.
Sister venue to the University's larger St Paul's Hall, Phipps Hall is perfectly suited to chamber music performance, and often hosts early classical music concerts. It has great acoustics and houses both a Steinway Model D piano and a replica Baroque chamber organ. Owing to the University's fantastic Music Department, the venue also has a huge range of replica instruments at its disposal, including several harpsichords, a Baroque string quartet, sackbuts, viols, and an ever-expanding historical piano collection.
Outfitted with a DMC lighting rig and connected to the Music Department's recording studio, Phipps Hall also plays host to many twentieth-century and contemporary concerts. Members of the University of Huddersfield's Centre for Research in New Music perform regularly in the venue, and enjoy opportunities to work with electronics experts and student specialists, frequent guest speakers, composers and performers.
Phipps Hall also acts as a host venue for two contemporary music festivals each year. In November, the venue sees cutting-edge music performed by world-leading ensembles as part of the Huddersfield Contemporary Music Festival – the UK's largest international festival of new and experimental music. In February, meanwhile, Phipps Hall hosts the Electric Spring festival – five days of sonic exploration in the field of electroacoustic music.