Square Chapel Arts Centre
Kristy Stott, Theatre Editor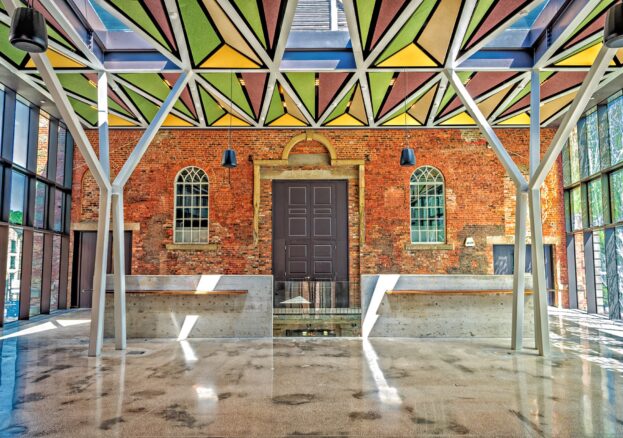 Situated in the centre of the town adjoining The Piece Hall, Square Chapel Arts Centre is an integral part of cultural life in Halifax. Presenting a vibrant mix of shows, family theatre, films, events and workshops, the centre attracts more than 80,000 people every year.
Alongside neat performance spaces, the centre also offers a cinema and a cafe/bar and terrace with delicious food and a splendid selection of craft ales.
Square Chapel Arts Centre is bursting with stories – not just within the contents of its diverse programming – but in terms of the centre itself. Back in 1988, six local people paid just £25.00 for the derelict building and set about their dream of transforming it into a lively community arts centre. With hope, triumph and humanity, Square Chapel has always been a place for conversations, community and stories.
A Grade II listed red brick Georgian Chapel, the building underwent a passionate renovation before reopening again in 2017. Enhancing the existing offer, the centre boasts two performance spaces, with seating for 210 and 108 people, and a stunning, modern extension that links the original Chapel to The Piece Hall. A fascinating blend of old and new architecture.
Earlier in 2020 – at the beginning of the Covid-19 pandemic and the national lockdown – the arts centre was under threat of closure. Like many arts and cultural venues, the organisation was battling with funding shortfalls before shutting its doors as the UK went into lockdown. An important and much-loved cultural hub, Square Chapel was saved when it was acquired by the team behind Wigan arts centre, the Old Courts.
Attracting residents of Halifax and Calderdale as well as visitors from further afield, Square Chapel Arts Centre is a vital part of Halifax's new and thriving cultural quarter that includes The Piece Hall, Halifax Central Library and Orange Box Young People's Centre.