Levenshulme Market
Carmel Smickersgill, Tours & Activities Editor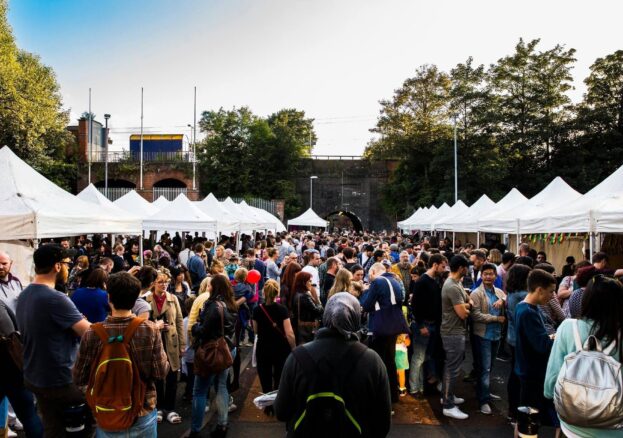 We're massively sad to hear that Levenshulme Market is closing from mid July 2023, with the hopes that it can re-open in 2024. To find out more, including ways you can help it return, head here.
Levenshulme is fast becoming the trendiest suburb of Manchester. With a good mix of delis, bakeries, wine bars and community spaces it has retained its character whilst evolving, partly helped by the popularity of longstanding features of the area like Levenshulme Market. Since it opened in 2013 it has won a clutch of awards, doubled in size, opened on a university campus and, by going from monthly to weekly over in Levy, has done much to revive the retail opportunities in one of Manchester's most up-and-coming suburbs.
Sellers vary from street food stalls to vintage and modern fashion, independent artists and jewellery makers to artisanal ice cream and coffee sellers. No matter your taste there is guaranteed to be something for you. Some of those sellers included Penrith's Winter Tarn Farm, whose cheese, butter and eggs are used by stellar chef, Simon Rogan, and meat from another Cumbrian outpost, Savin Hill Farm.
Far from sucking the good stuff out of the suburb, the market does the opposite. "As a social enterprise we provide employment opportunities for people in Levenshulme," says Power, "and our profits are used to fund retail and entrepreneurship opportunities in the area". Such opportunities have been given to the local business woman behind the now infamous Samosa Shack. The market really embeds itself in the community, it is the fuel behind many of Levenhulme's small business' and now boasts a wealth of success stories from people, like Samosa Shack, who've grown their stalls into larger ventures.
Levenshulme Market now hosts over 50 stalls and is a great way to spend your time and money. You can find it in a carpark near Levenshulme Station, making it a 10 minute trip from Piccadilly. It happens every Saturday between 10 am and 4 pm and once a month (on the 3rd Friday between 5 – 9 pm), it also makes an evening appearance, hosting a fantastic array of street food vendors alongside arts and craft fare.
Levy is definitely a suburb to watch and as the driving force behind this cultural renaissance the market is definitely worth a visit.