Hull New Theatre
Polly Checkland Harding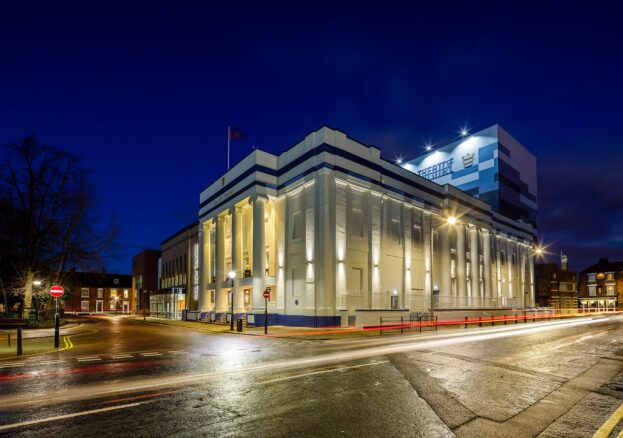 With an inspiring history, welcoming acclaimed productions and legendary performers including Laurel and Hardy, Margot Fonteyn and Sean Connery, the Grade II-listed Hull New Theatre reopened in 2017 after a £16 million refurbishment, creating more seats, a new café-restaurant, two new bars and an extra space
The biggest overhaul in the theatre's history, other major improvements included a new fly tower (used for scenery, stage effects and lighting) and a newly accessible foyer, and 80 tonnes of water were used to hold up the theatre's walls as the building was extended and transformed into a modern, landmark theatre.
Hull New Theatre's history began with the arrival of a man called Peppino Santangelo to Hull in 1924. Born in the Channel Islands, Santangelo came to join the Hull Repertory Company, resident at what was then the Little Theatre in Kingston Square, and became instrumental in transforming the fortunes of the struggling company. With an eye to expansion, Santangelo looked to move into the Assembly Rooms next door, formerly home to readings from eminent Victorian writers including Charles Dickens, striking a deal with the neighbouring fire station, which moved into the vacated Little Theatre.  
The theatre survived throughout World War II, hosting West End productions that had fled London to escape the bombing; the theatre bar was reinforced as a bomb shelter, and a war time programme declared that 'the theatre is a safer place than your own home'. The theatre itself was bombed in 1941, the only direct hit, which destroyed the front row of stalls as well as the costumes and props of the visiting Sadler's Wells Opera Company (now the English National Opera). Saved from being bought by a bingo agency when theatre attendance fell with the rise of television, the Hull New Theatre has since proved to be a great asset to the city, hosting touring shows, tribute acts and comedy over the years and sealing its reputation as one of the leading touring theatres in the UK.