Wilberforce House
Polly Checkland Harding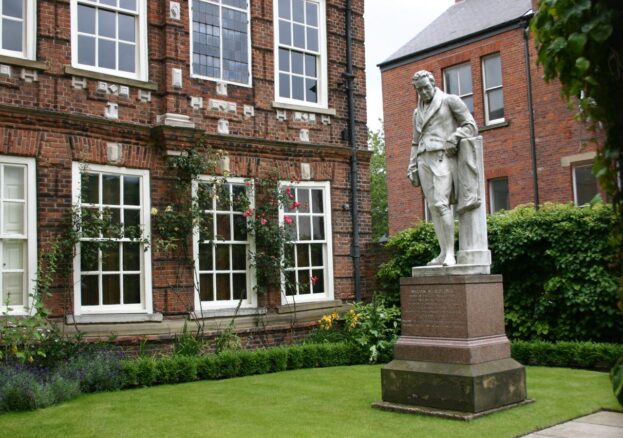 The birthplace of William Wilberforce, the British politician, abolitionist and social reformer, Wilberforce House tells the story of the transatlantic slave trade and its abolition, as well as dealing with contemporary slavery.
Born in 1759, William Wilberforce was a social reformer, MP and leading figure in the abolition of the slave trade. Wilberforce House was his birthplace, and is now a museum with eight permanent galleries in the rooms throughout the house. These tell the story of the transatlantic slave trade, its abolition and the persistance of slavery today – as well as the story of William Wilberforce's life and political career through artefacts, documents and costume.
The son of a wealthy merchant, William Wilberforce studied at Cambridge, where he formed a lasting friendship with future Prime Minister William Pitt the Younger. Wilberforce became MP for Hull in 1780, later representing Yorkshire; as an evangelical Christian, he became fascinated with social reform. He was persuaded to lobby for the abolition of slavery under the influence of Thomas Clarkson, a notable campaigner who had travelled to ports around Britain to gather eyewitness accounts and equipment to use as visual aids when campaigning. Wilberforce regularly introduced anti-slavery movements in Parliament over 18 years, eventually seeing the slave trade abolished in 1807. It was not until 1833, shortly before Wilberforce's death, that an act was passed restoring freedom to all slaves in the British Empire.  
The galleries at Wilberforce House highlight the horrific experience of being captured and transported across the Atlantic in appalling, and often deadly, conditions, as well as the reality of the lives that enslaved Africans led working on plantations in the Caribbean and Americas. The Abolition galleries focus on the campaign to abolish the slave trade, and include the famous 'Brookes' slave ship model that Clarkson gave to Wilberforce to show to Members of the House of Commons to highlight the shocking overcrowding on board; the model was based on a ship that was built to carry 451 people in brutal conditions, but which actually transported over 600 in 1783. Finally, the latter galleries address contemporary slavery, and the work to try and stop it.