Hitchcock's Vegetarian Restaurant
Polly Checkland Harding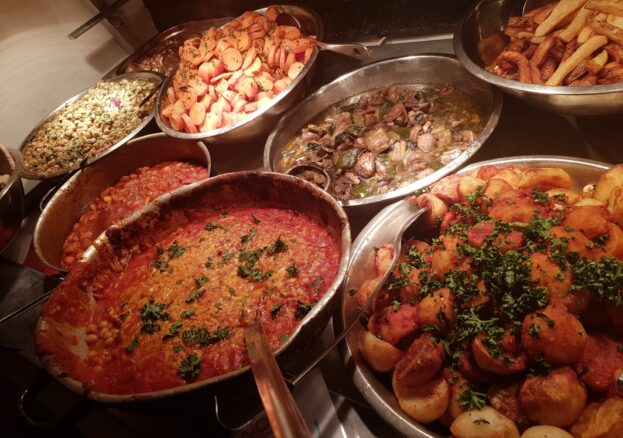 Strange, but highly rated, Hull's very first vegetarian restaurant, Hitchcock's, has been an unconventional spot for over 25 years, with a warren of rooms full of curios, the menu chosen by the first person to book and food served as an eat-as-much-as-you-like buffet.
Gone are the days when vegetarian and vegan food was itself considered impossibly exotic – but Hitchcock's continues to give a twist to the cuisine, with a focus on the trademark dishes of a particular country, selected by the first booking for the evening (there is only one sitting; arrive between 8pm and 9pm). The example menu on Hitchcock's website is Cajun, with main courses including okra gumbo, red beans with rice, banana bread, Jamaican curry, fried plantain bananas and sweet potatoes, lemon spinach, sweet corn, hot salsa, Sheila Ferguson's macaroni cheese and griddle cakes. It's the kind of overview that gives you a real idea of the wealth of dishes on offer. Other popular menu choices are Chinese, Indian, Italian, Japanese, Mexican, Middle Eastern, Russian, Spanish, Thai and even English.
The service, too, is unusual: starters are brought to the table, but mains are served buffet style, with guests invited to help themselves and eat as much as they like, although you are encouraged to leave room for dessert – after all, there's a spread of up to 12 different offerings to dive into from the restaurant counter. All of this adds up to an impressive amount of food, in both range and quantity, for a set price (currently £22 per head; £19 concessions on week nights). 
The decor is an eclectic mix of styles, with thrift store curiosities dotted throughout the rambling rooms, and the setting is no less unusual. Situated in the heart of the special area that is Hull Old Town, near both Ye Olde White Harte and The Old House, Hitchcock's Vegetarian Restaurant is on the site of the centuries-old Dunswell Forge, a medieval building that, despite being rebuilt in the mid 1700s as a ship builders, retains much of the original interior structure.