Paragon Arcade
Polly Checkland Harding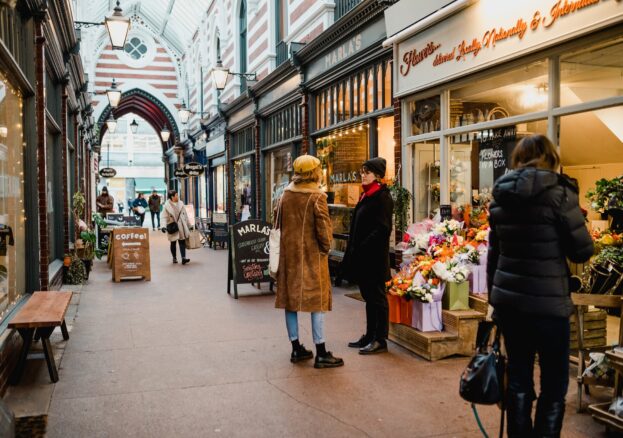 This beautiful Victorian shopping arcade dating back to 1896 is now home to a raft of innovative local retailers, each with their own specialism to offer Hull's residents and visitors alike.
Close to Ferens Art Gallery and the Hull Maritime Museum, Paragon Arcade is a hub of independent shops and businesses after being restored to a high standard throughout since Allenby Commercial took over in 2017. Each unit has a lantern and wide glass windows out front, with gold lettering announcing the business in the elegant interior, and you'll find everything from freshly baked bagels and baby clothing to bespoke furniture and craft beer under the building's high glass roof.
Current tenants include Two Gingers Coffee, a specialist coffee shop born during Hull's year as City of Culture in 2017, and Marla's Eatery sandwich shop, purveyor of freshly made salads and sandwiches, including their very own plant reuben and Wagyu salt beef bagels. Homestead Store sells ethically sourced goods, local art, clothing and independent publications, and hosts life drawing and workshops including Christmas wreath-making classes. Founded in 2004 by Sally Hawkes – a master chocolatier and leading authority on the history of chocolate – White Rabbit Chocolatiers is the winner of 17 Great Taste Awards; the name comes from a 14th-century carving in St Mary's Church in nearby Beverley that is reputed to be the inspiration for the White Rabbit in Alice's Adventures In Wonderland.
Over at Spanish and Latin American restaurant The Hispanist (the name for an expert in the study of the language, literature and culture of Spain and Spanish-speaking countries in Latin America), there's authentic cantina-style street food for lunch, with modern hispanic food for dinner. You'll find baby clothing at Belle & Benjamin, custom colouring and cuts at Milk. hairdressers, unique Scandinavian-inspired homewares at Nordic Rose, bespoke furniture and lighting at Koda Studios, 40 years of music and memorabilia at record shop Out Of The Attic Music, and the 80 Days Bier Market. Paragon Arcade even holds regular after hours shopping events – giving you even more time to explore the wealth of retailers on offer here.
While you're in Hull, there is a lot more to explore by way of culture. We've put our tips together in a handy guide.