Hazlewood Castle Activity Centre
Polly Checkland Harding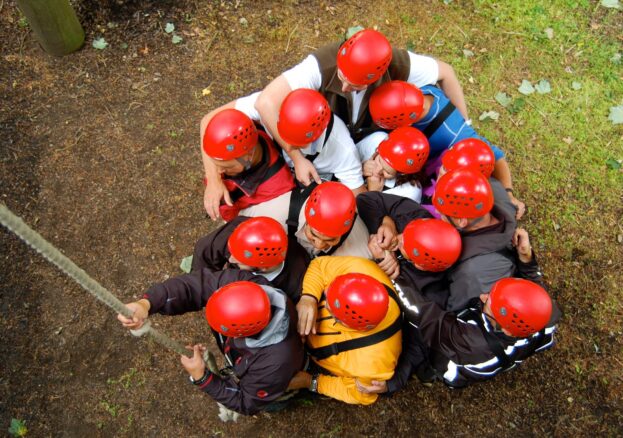 Occupying 70 acres of off-road terrain, Hazlewood Castle Activity Centre offers a range of adventure activities led by fully qualified instructors. Just a 20-25 minute drive from Leeds, York and Harrogate, the centre is also part of the Hazlewood Castle Hotel; it's just a two minute walk to the four star hotel's restaurant and bar after working up an appetite playing football darts or testing your skills on one of two quad biking courses. The Imagine Spa next door is also the perfect place to swap the mud of the forest for the luxurious Mud Rasul treatment.
Quad biking is one of the centre's most popular activities: visitors are given a full safety briefing before being sent off on a warm up lap, navigating the sharp turns and exhilarating straights of the woodland track. There are three sessions to choose from (30 minutes, 45 minutes and 55 minute VIP); on longer bookings, you'll be given the opportunity to try some of the more challenging obstacles once you've got to grips with the bike, including the bridge, pits, balance beam and bumps. Alternatively, learn a range of throwing techniques in a Tomahawk axe throwing session, including double hand, backwards and double axe if you dare. Aspiring archers can learn fun facts about this ancient sport and finish a session by attempting to shoot an apple from the top of the office mannequin's head.
Try hitting a range of targets through a telescopic sight on the centre's air rifle shoot, or attempt to shoot the stag and destroy the zombies with a crossbow. If you're a fan of the beautiful game, then football darts is a relatively new sport that tests your skills on the ball: aim at the three-metre-tall inflatable dart board and play a range of games including Round the Clock and Nearest the Bull. If learning survival skills is more your thing, you can book a bushcraft session for tuition in how to light fires and build shelters using only nature's resources. Finally the centre's cryptic chase takes puzzle solving outdoors, with marked points on a map pointing to a series of cryptic clues, riddles and teasers to solve against the clock.