Grilled Cheese Booth
Polly Checkland Harding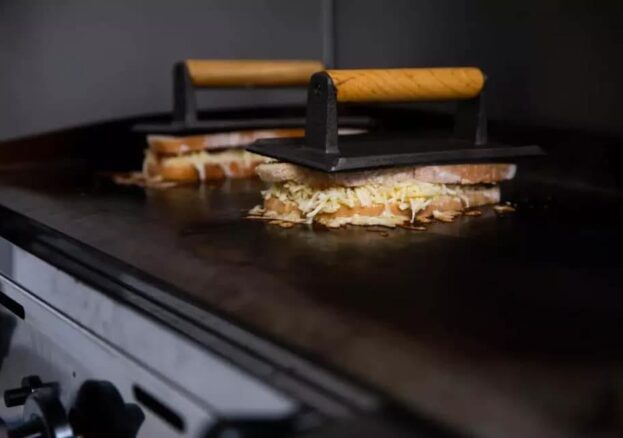 Grilled Cheese Booth is exactly what it says on the tin: a small kitchen serving hearty grilled cheese sandwiches through the top half of a stable door in a little courtyard, just off the end of Crown Street. It's a company that's gained a loyal following for its delicious, changing selection of sandwiches, often selling out before the end of the day. The story behind the Grilled Cheese Booth is a familiar one: the owners were made redundant, had a baby, set up a market stall and opened the booth all in one year, diving into a new industry when faced with an unexpected curveball by life. So far, the endeavour's been a great success, with visitors mightily impressed by the simple but delicious sandwiches on the menu here.
This might have something to do with the fact that the bread, meats and cheeses used are all sourced locally. Similar care is taken with the tea and coffee on offer – the latter of which is a house blend, roasted especially for the Grilled Cheese Booth by Cloud Gate Coffee on the edge of Haworth. Sweet treats include Italian doughnuts from Blue Sky Baker in Hebden Bridge itself, a local business and proponent of the real bread campaign. There are both everyday and special sandwiches on the menu: the classic, filled to the brim with mature cheddar and mozzarella, others that pair cheese with caramelised onion marmalade or spiced ale chutney, and there's a salt beef concoction with pickles and English mustard that has become a regular favourite.
Small but driven to serve the best possible version of its chosen specialism, the Grilled Cheese Booth is a fantastic pick for a filling lunch with a hot cup of tea or coffee. It's close to both vintage clothing and homewares shop Lucy and the Caterpillar, and Hebden Bridge Market, both of which are well worth a visit, as well as being only minutes from the town's award-winning high street. Don't miss it!