Damson Media City
Kate Feld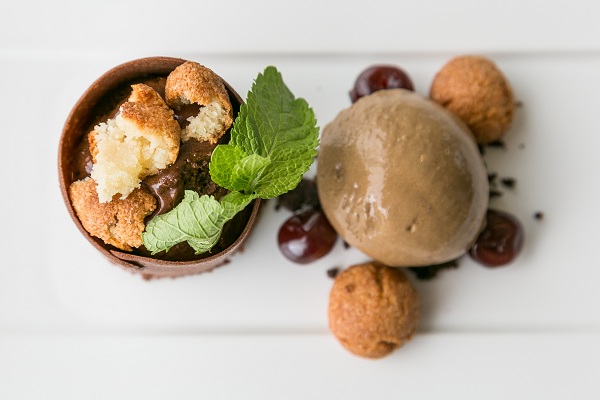 Does the Media City version of Damson live up to its chain-free promise? Not quite, as Kate finds out.
Strange place, Media City. For all that happens in our Northern media hub, trams whooshing busily hither and yon, it still seems like a place that hasn't quite woken up, filled up, or lived up to its potential. But there is all that watery light, reflecting off all those shiny silver surfaces, and the spectacle provided by two of the city's architectural gems, The Lowry and IWM North, throwing their futuristic shapes at the skyline. New restaurant Damson Media City makes the most of this space-age view, with glass walls that curve around the restaurant. So in the unlikely event that you get bored with the scenery (or your dining companion), there's always rolling news on The Big Screen.
Damson's arrival has been greeted as a kind of turning point for Media City: finally, they say, a decent, chain-free restaurant! First impressions were encouraging. The decor is unusually good, all dark indigos and terracottas, and sumptuous fabrics and prints. The natural light flooding in makes all this darkness elegant rather than oppressive, and although the wine-bottle-lined walls are a bit naff, it's clearly a place designed for comfort and ease.
And the food? Well, it's all perfectly nice, just a bit bland and inoffensive. If you met this food at a party you would almost immediately forget its name. I'm not saying "meh" is all Damson can do; its a la carte menu looks more interesting. But we were there to try out the pre-theatre menu, served from 5pm to 6:30pm daily, when theatre-goers at The Lowry or thrifty early birds can snaffle up three courses for £19.95. (Handily, it doubles as the "working lunch" menu, presumably a joke on those BBC worker bees whose "working lunch" involves a hastily-purchased sarnie consumed al desko.) Set price menus are often a pragmatic exercise in wringing the maximum profit out of the lowest food costs, and on first reading this one was no different – inexpensive protein n' sides bulked out with the requisite pasta and rice dishes.
If you met this food at a party you'd almost immediately forget its name

A starter of smoked haddock and sweet corn risotto was fine, but overpowered by cumin. My friend's new-season asparagus soup tasted good but seemed on the thin side. The mains continued in this reasonable vein. I have nothing against bavette, but this Gallic cut of steak gets as tough as Mr. T if you don't handle it with the utmost gentleness. Hélas, this one was on the tough side, though the accompanying mash and mushrooms were tasty. Tagliatelle in a grassy sauce of herbs and butter was tumbled through with artichoke hearts and asparagus – OK but, you know, nothing to run across the plaza shouting about. From an initially uninspiring selection, desserts redeemed themselves. My white chocolate mousse sounded dull on paper, but on the plate was a shock of colour and flavour, the sweet, creamy oblong topped with fresh kiwi, passionfruit and mango. My friend's lemon meringue was a deconstructed pud, with creamy lemon custard on a biscuit base topped with golden-domed puffs.
For years I've heard people rhapsodise about the original Damson in Heaton Moor, though I haven't been myself. The cooking here was what you'd expect from a good neighbourhood place, but at Media City it's competing more directly with the restaurants in the city centre, and on this evidence it still has some way to go before challenging them. If you have to eat at The Quays, it certainly beats Wagamama or Prezzo, but it's not making a strong case for anyone to venture out of their way – not yet. But it's early days for Damson and Media City both.
This is an independent review, but our writer didn't pay for her meal. For more info on our editorial policy, read our About page.