The National Festival of Making
Alex Zawadzki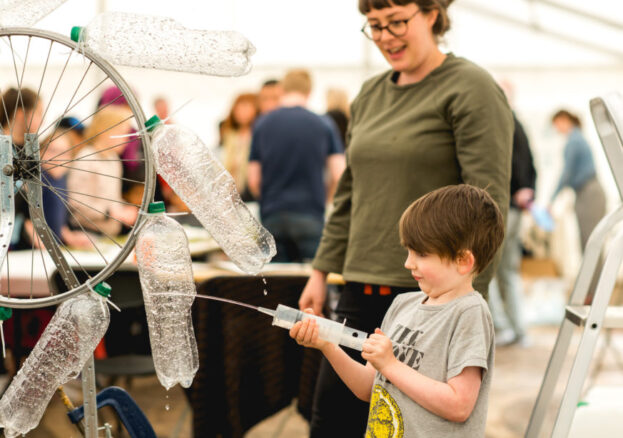 For two days a year, The National Festival of Making fills the streets of Blackburn with the joyous activity of making, taking over 20 venues and outdoor spaces. It's free to attend and a significant proportion of the programme is free to participate in. In recognition of the continuing place Blackburn has at the heart of making and manufacturing, the festival 'celebrates making from the kitchen table to the factory floor' through an ambitious programme. In 2022 this took in 50 exhibitions, performances, workshops, talks and markets across 22 locations in the town centre.
There really is something for everyone as you navigate the festival map and find activities that allow you to sit, watch, listen or participate and are aimed at different ages and abilities. Hands-on making workshops could see you make a bicycle bell, a Bauhaus costume, a leather purse or a screen-printed poster.
This vibrant event is a happy occasion, with unexpected things to do. You might find yourself in a Virtual Reality experience, on a unique walking tour wearing a flying cap, in a cinema made from cardboard or in an intimate Northern Soul performance. There's a real sense of the town coming alive over the weekend.
If artisan shopping's your thing then you'll be pleased as punch with the selection of artisan stalls selling handmade goods at the Makers Market. In years gone by there's also been a dedicated Teenage Entrepreneur Market and a Food Producers Market featuring over 20 businesses who create produce across Lancashire.
The festival is usually complimented by an annual commissioning programme, Art in Manufacturing, which has placed many artists into residencies with manufacturers across Pennine Lancashire.
Right now, details are still a little sparse with regards to what specifically the 2023 instalment of the festival holds, but no doubt it'll be another packed programme. Keep an eye on The National Festival of Making's website for the latest information.