Haute Dolci
Alex Zawadzki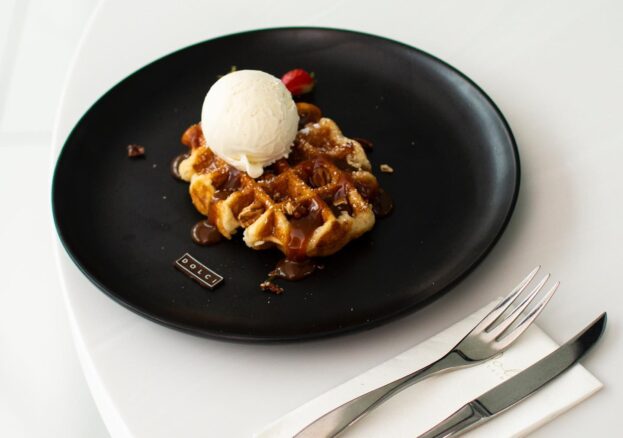 One of eight across the North West, Haute Dolci Blackburn is located in the town centre with the most delectable array of sugary treats imaginable. Dessert houses are a hot ticket in Blackburn with a vibrant British South Asian population, where the young and hip fill up hang out spots that aren't alcohol-centric. Haute Dolci sets itself apart from the rest, with a sophisticated, luxurious interior and a more refined selection of confectionery than its competitors.
Two floors with cosy, circle booths create an intimate social space for small groups, with light blue and pearly interiors lit by floor-to-ceiling windows.
There's classics to choose from; waffles, crepes, cakes, cookie doughs, cheesecakes, sorbets, icecreams with customisable toppings, with floats, mocktails and coffee creations to drink. There's also a strong offer of vegan options and gluten free choices. Waiter service brings your order straight to the table, elegantly presented. If you can't choose from the enticing menu, then some of the options are available in a box to take home. Insider tip: there's also a secret menu for those in the know. Ask the server for more details.
If you prefer a little savoury with your sweet, Saturday and Sunday offer a special brunch menu. For a divine scrambled egg-filled croissant with red peppers and chili, or fried eggs on hash brown and brioche with hollandaise, make sure you book in advance – this is by reservation only.
On an evening, a visit to Haute Dolci would be perfectly preceded by a main Indian meal at Thira (also in our Blackburn and Burnley guide.) The two are ideally placed round the corner from each other for a special double-bill evening meal.