Exchange Coffee
Alex Zawadzki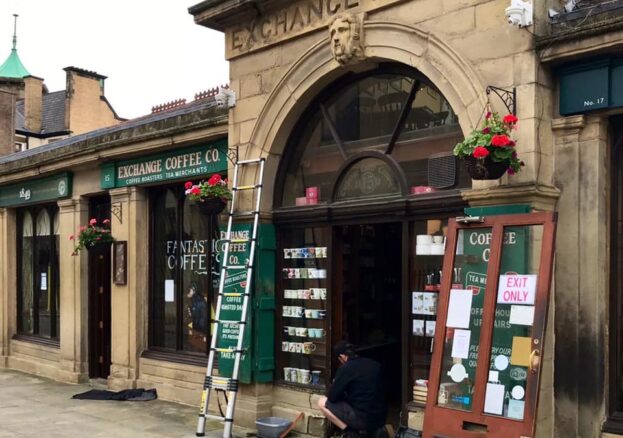 In the true tradition of coffee roasters, the Exchange Coffee shop roasts its beans on site in small batches for guaranteed quality and flavour. As you can imagine the place smells incredible. It's a real treat for coffee purists, set in a very special building.
The cafe is part of the Exchange Coffee Company's group of cafes, roasteries and barista training sites in Lancashire and Yorkshire, promising you a cup made by a skilled hand with the freshest beans. The coffee roasted here has scooped more than one Great Taste Award.
This branch is in a side street, not often stumbled upon by chance, in a parade of Victorian shops on Fleming Square close to the Cathedral. Exchange Arcade was built in 1849 and the coffee shop takes up two properties including a private hire, period dining room decked out with its original oak panels and William Morris wallpaper.
Exchange have some outdoor seating when the weather's ripe for a coffee in the sun. The cafe offers toasties, jacket potatoes and soups, but the real draw is the coffee of course. This coffee and tea merchant often adds new specials to their list of more than 50 coffees. The most recent new kids on the block include El Salvador La Providencia Black Honey, Nicaragua Finca Buena Esperanza Marsellesa, Brazil Fazenda São Lucas and their special blend 'NH- Es-presso,' a special blend from which Coffee Exchange donate 20% of the sales to the NHS. The staff here will hoist down the jars, measuring and grinding your chosen beans to order while filling the air with the glorious different smells. These are all available on their website as a 'Roast and Post' order and the Exchange also have a list of more than 65 teas and infusions which makes choosing a ponderous task.
Open Monday to Saturday 9am till 5pm, the cafe is also a great stop off to buy your own supplies or gifts, with equipment and treats to compliment your homemade brewing set-up, from pour overs to tea infusers.