Shiva Feshareki at The Lowry
Carmel Smickersgill, Tours & Activities Editor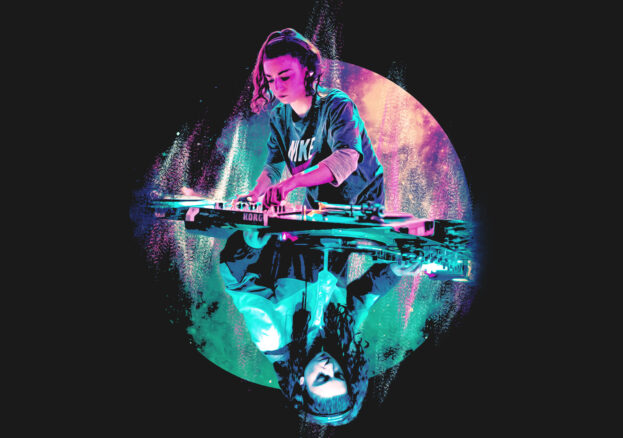 After her proms performance in 2018 was received with critical acclaim, Shiva Feshareki has proven herself to be one of the most innovative voices creating work in both the concert hall and electronic music world. Join her for what promises to be an evening of sonic fusion and beautifully intricate sound manipulation.
Accompanying the live solo turntable set will be generative visuals from the artist Helena Hamilton, her sound reactive visual art will be derived from the structures and lines composed live by Feshareki. Watch as she combines audio from the familiar canon of drum and bass, garage, deep minimalism and classical music, weaving a new palette of sound from these existing materials. Her solo sets are known for their sonic imagination and contrast of delicate moments with impressive dexterity in noise manipulation.
Feshareki has previously won a British Composer Award for innovation as well as being an internationally recognised turntable artist and NTS radio DJ. She's previously worked with London Contemporary Orchestra on the spatial orchestral work GABA-analogue, Aarhus Symphony Orchestra on the piece 'O' and London Jazz Festival.
An evening of sonic fusion and beautifully intricate sound manipulation
This year has seen the exciting release of her debut album NEW FORMS released on RESIST. The record is a permanent collection of her turntable improvisations and combines elements of orchestral textures with more industrial style minimal beats.
In 2019 she will be performing alongside BBC Concert Orchestra, Ensemble Modern and the Orchestre Nationale de Lyon, as well as writing a new commission for live turntable manipulation and spatialised brass ensemble, to be premiered at the Szczecin Philharmonic in Poland.
Effortlessly impressive work
It is such a privilege to witness someone on the brink of their artform who is distressing the boundaries of genre and technology with effortlessly impressive work. Witness her live compositional explorations in real life at The Lowry this March.