Sean Edwards: Undo Things Done at Bluecoat in Liverpool
Creative Tourist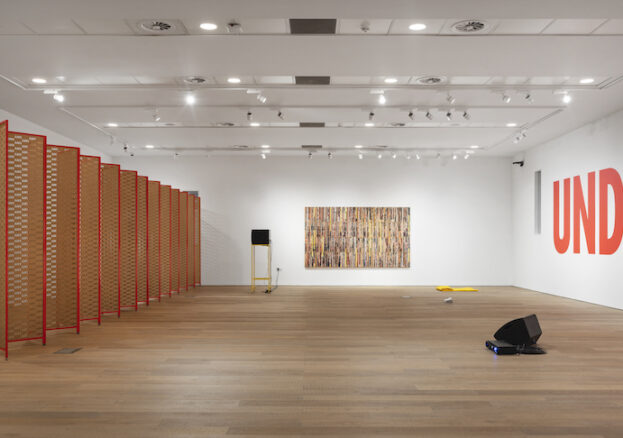 Note: This exhibition has had to close earlier than planned due to lockdown restrictions in the UK. To continue the conversation, Bluecoat has devised a series of free live events every Friday in February that allow the public to access aspects of and responses to the exhibition. These include a live stream of Edwards' film Maelfa, readings of new writing by Professor Maria Fusco and the artist in conversation with curator Kim McAleese. The events also celebrate a new artist book by Edwards, un un un un un un, published by Bluecoat December 2020 and designed by Wayne Daly of Daly & Lyon. Available from Cornerhouse Publications in Spring.
First presented at Venice Biennale in 2019, Turner Bursary artist Sean Edwards' touring solo show Undo Things Done is now travelling to Bluecoat in Liverpool, where it will span two of the centre's largest gallery spaces.
The exhibition draws upon the artist's experiences of growing up on a council estate on the outskirts of Cardiff in the 1980s, offering a poetic inquiry into place, politics and class, intertwined with personal histories. One of the highlights comes in the form of a re-edited version of his radio play, Refrain, which Edwards wrote for his mother Lily and streamed live from her flat in Cardiff to Venice each day throughout the festival. Co-produced by National Theatre Wales and later aired on BBC Radio 4, the piece weaves Lily's biography, growing up in a Northern Irish Catholic Children's Home and her subsequent life in Wales as a cleaner and lone parent, together with found materials and Sean's own childhood memories.
Edwards has described Refrain as an 'antidote to the privilege of the Biennale'. Undo Things Done could be stated in similar terms as an antidote to the privilege of the wider art world at large – highlighting a working-class perspective that's rarely given much airtime.
The piece will be joined by other key artworks from the Venice show, including several sculptures and Edwards' own handmade traditional Welsh wholecloth quilts, as well as a series of new prints and a new work which will be presented on Bluecoat's exterior. For the touring exhibition, Edwards also invited Cardiff-based artist and writer Sadia Pineda Hameed to present a solo show alongside. Both artists address ideas of inheritance in their work, particularly the stories that are passed down within families, especially from mothers, and the childhood memories and experiences that shape the present.