Probe Records
Creative Tourist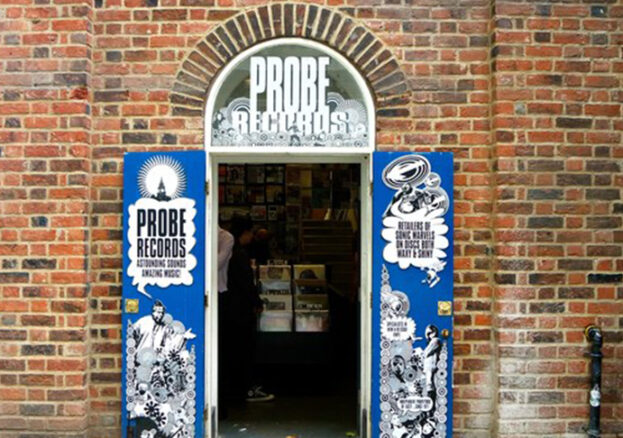 You wouldn't think it from the un-ironically retro signage that greets you at the door, or from the symmetrically flanked shelves of LPs, or from the quietly furtive discussions of perusing customers, but Probe Records is nothing short of a living legend in the Liverpool music scene.
For more than forty years this independent record shop has stocked an uncompromising selection of LPs, nurtured emerging talent via its own label, and provided a hangout for vinyl addicts (or "Probies" as they became known) and musicians alike. Now in its fourth location at the Bluecoat, Probe may no longer lay claim to being the "control room of Liverpool's music scene" but it's still the city's favourite record shop.
The shop was founded in 1971 by Geoff Davies, a former-carpet manufacturer who was fed up with not having anywhere to buy the kinds of records he liked. Quitting his job and pooling his £300 savings, Davies opened the first Probe Records shop on Clarence Street; he crammed the tiny store with jazz, folk and rock 'n' roll releases, as well as lesser-known Jamaican imports and underground magazines. Due to its substantial stock of LPs and leftie literature (including the odd book on marijuana), Probe became a favourite within Liverpool's alternative movement and soon opened a second shop under the "hippy market store," Silly Billy's. When the free love ran out, Probe relocated to Whitechapel Street and found itself opposite Eric's Club, the unofficial epicentre of the 1970s punk scene. The shop became a regular pre-gig haunt for music fans as well as musicians; members of Frankie Goes To Hollywood, Echo and the Bunnymen and The Teardrop Explodes are all said to have shopped at Probe and Pete Burns even did a stint as a shop assistant.
Thanks to Probe's cult popularity and its expanding wholesale business, Davies (a man who maintains he was always more of a music enthusiast than a businessman) was able to set up the Probe Plus record label. With the help of John Peel, the label had a number of successful signings during the 1980s, most famously Birkenhead post-punk band, Half Man Half Biscuit. By the 1990s, Probe had moved again, this time to Slater Street, neatly coinciding with the city's burgeoning post-acid house scene. Its proximity to the Cream nightclub and the increased demand for 12" singles allowed Probe to reign there until 2010, when it moved to the slightly more cerebral surrounds of Georgian-school-turned-arts-centre, the Bluecoat.
But the Bluecoat is no retirement home and today's Probe Records continues Davies' quest to stock the best underground records. Releases by the newest buzz bands sit alongside covetable first issues, as well as CDs, second hand offerings and a selection of local street press magazines. And if you don't know your Nick Cave from your Nick Drake, this is the place to come – some of the assistants have more than 25 years of record-selling experience (and infinitely longer record-buying ones) and are usually happy to offer a play-before-you-buy service. Thanks to a resurgence of interest in vinyl collecting and, of course, being extremely good at what they do, Probe has seen off the rise of digital downloads and the collapse of many fellow independents – and that's just as impressive as its illustrious back history.