Lunya Liverpool
Susie Stubbs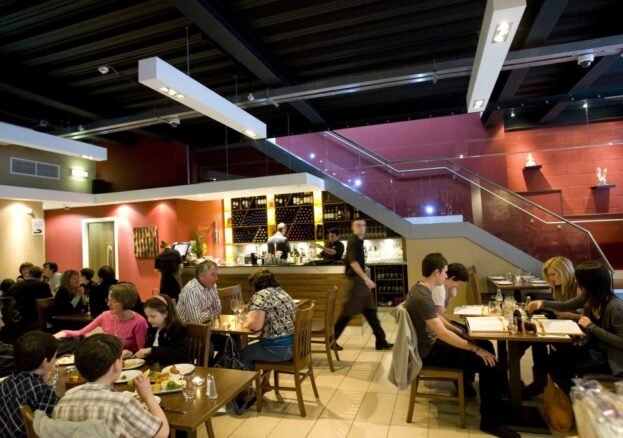 This shop, restaurant and cava bar may have an abundance of attractions – but we rate it for its deli.
Lunya is many things to many people: a Catalan-themed restaurant, tapas bar and deli to some, the lone voice of independent retail in Liverpool One – the monolithic shopping district that accounts for most of the city's shopping streets – to others. But, to us, Lunya is the best purveyor of lunchtime eats in the city centre – buy it here, scarf it in the sunshine at nearby Chavasse Park. And while the Lunya policy is not quite pile 'em high, there's nevertheless a vast array of deli treats on offer, much of which are sourced direct from producers. You'd like some tinned Spanish squid? No problem. Sliced to order Iberica jamon? Of course. Cold stone pressed olive oil, pasta, coffee, wine, cheese, home-baked bread and own-brand chocolate? There's all this and much, much more. It also displays a rather appealing attitude to health, safety & the right to enjoy good food
Deli aside, this independent eatery also displays a rather appealing attitude when it comes to health, safety and the unfettered right to enjoy good food. Its annual calçotada barbecue, for example, which sees the Spanish calçot (a kind of green onion) roasted over a street-side charcoal BBQ, was apparently "absolutely forbidden" by Lunya's Liverpool One landlords – on 'elf and safety grounds. What did Lunya's owners do in the face of BBQ bureaucracy gone mad? They decided to go ahead and hold their event anyway.
Talking of which, Lunya is one of the few cafes in Liverpool whose outdoor seating isn't marred by passing traffic; its pavement tables and chairs are set out on a narrow, pedestrianised street (tucked just behind the Bluecoat), and it's a good bet if you'd prefer not to picnic elsewhere. The deli's adjoining restaurant also offers a chance to try what's in the shop before you buy (its tapas menu features three dishes for just under £11). But, to be honest, everything we've taken a punt on here thus far, from tapas to cheese via tinned fish, cava, fresh cherries and great hunks of bread, has been, well, deliciós.