Present Company
Stephanie Heneghan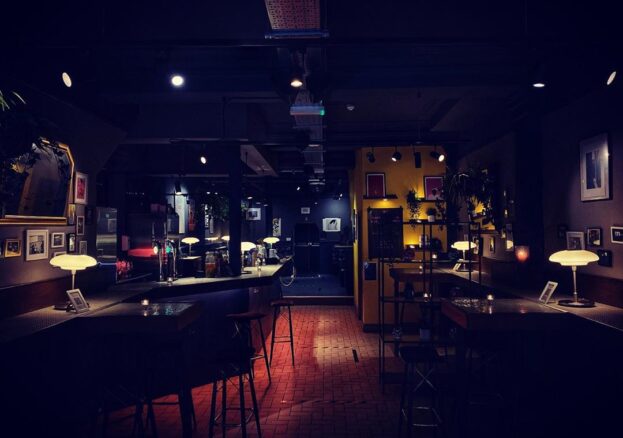 We take a look at Present Company, a relatively new cocktail bar in Liverpool. You can tell when somewhere is really really good because you don't want to tell people about it. Well, you want to tell some people about it but only a select group that you carefully choose because this is your new favourite place and the last thing you want is for it to become too popular. You want it to remain the right amount of unknown, just busy enough to stay open. The perfect amount.
Unfortunately for me over the last 18 months, Present Company has taken matters out of my selfish hands and has firmly established itself as the best bar in Liverpool. You'll find it nestled away on School Lane off Hanover Street, where the Hole in the Wall cafe used to be. It's unassuming but once you're in there you're probably going to spend the rest of the night as there's no real reason to leave (spoken as a seasoned bar hopper).
The inside is chic but not overly stylised – personality without too much interior design – with plenty of seating and enough space between tables that you can enjoy your evening without becoming part of someone else's.
The drinks menu is a mix of classics and house creations. It's the first Liverpool bar I've had a properly great Dirty Martini in (plus if you take your time drinking it they'll quietly swap out your warmed glass for a freshly chilled one). They've created their own cult classics in L8 Hold Up (vodka, Aperol, passionfruit) and Death at the Party (Lillet rose and Campari), both of which are available by the bottle for more affordable drinking. Their Tommy's Margarita also deserves a shout out, sour, refreshing, delightful. It goes down worryingly easily…
Budget-friendly drinking in a cocktail bar might seem like an odd prospect but it's possible to spend an evening in Present Company without having to remortgage your house. It's very much a labour of love for the team, Florence, Jack and Simon – who between the three of them have earned their stripes at some impressive previous establishments. Why do I know their names? It's just that type of place – it's like Cheers but with better lighting and nicer glasses.
So there you have it. The best bar in Liverpool. Go down, say hello, order a Dirty Martini and be prepared to stay there for the duration.