Salvage: Veronica Ryan Residency Exhibition at The Art House, Wakefield
Selina Oakes, Contributor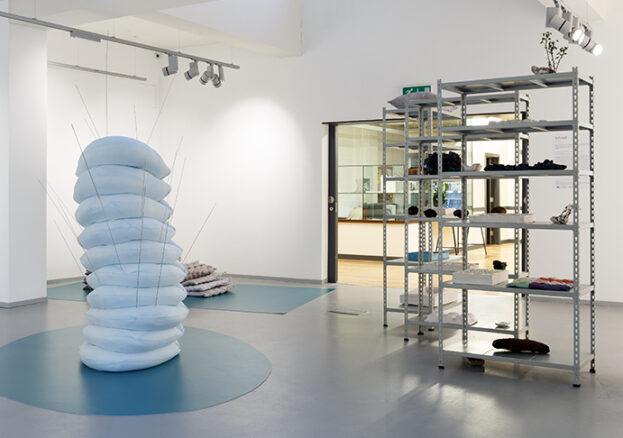 The word 'salvage' brings with it an entourage of meaning – rescue, conserve, redeem and restore. It's a recovery phase which often follows distress or adversity of varying degrees. Veronica Ryan's Salvage at The Art House invites the viewer to retrieve a message, a moment, from the tumultuous creative processes of stitching, dying, stacking and charring. It's an endpoint to her explorative residency in Wakefield – one which is more aptly described as a laboratory in flux.
Within The Art House, we encounter a multitude of personified sculptures: Armour, Armature (2017) defends its hollow core with a barricade of nursing pillows and protruding iron rods; the pillow stack in Protectors (2017) is held upright by a cuboid framework; and Grey Matter (2017) splurges its gradient dyed cushion contents onto a sterile turquoise-blue vinyl matt. Each sculpture, or character, is isolated by cutouts of this NHS-like plastic and forges a contrast with the organic and handcrafted processes that Ryan carries out.
The viewer is struck by the show's clinical connotations. Hospital pillows, metal shelves and Armour, Armature's cool-blue dye are all suggestive of a clean, minimalistic lifestyle – the contemporary antidote for mental health concerns. Burying our heads deeper into each piece, we become aware of Salvage's tactility. Techniques such as the tie-dying and stitching found in Layered, Strata (2017) create porous perimeters which dilute the definitive lines between inside and out; blurring the boundaries between mind and body.
Our clinical thoughts dissipate as we focus on Ryan's laborious embroidery – each stitch pinpointing the exact location of the dye's entry and identifying both the dexterity and limitations of her chosen materials. The viewer's attention turns towards the temporality of boundaries, as well as the impermanence of process. Each activity – whether piling pillows up to a natural tipping point or meticulously sewing seams and patterns – can be re-modelled into a new action or outcome.
Across from the five – relatable in stature – pillow sculptures, are three grey, metal shelving units. Scattered over each is an assortment of experiments: casts of fruit trays, tie-dye knots and charred sweet potatoes which, despite their baked appearance, sprout with new life. These objects have been 'saved' from Ryan's residency, and yet, like the word salvage, are bittersweet. Notably, the food encasements hold within them a sense of sanctuary and confinement (a 'one-size-fits-all').
These components offer up a different, perhaps more multifaceted, awareness of character than the pillow sculptures. The shelves have been described by the artist as a family; the true sense of which is found when considering each unit as an individual. The shelves have the same framework (or DNA) and yet they are composed of different, changeable and moveable assets – some of which Ryan playfully places on the unreachable, top shelf.
A forth unit is displaced from The Art House and appears nestled within a Barbara Hepworth display at The Hepworth. Having first experienced Salvage, we instantly recognise and reflect upon Ryan's display of ad hoc casts with a heightened cognisance of its ancestry. Set alongside Hepworth's work, the piece distances itself from tinges of the domestic and reinforces Ryan's connection with tension, rather than gender. While her interest in sewing is sparked by her mother's own craftsmanship as an accomplished quilter, Ryan uses the sewn line as it is "more deliberate than a drawn line." Like the shelving units, sewing is also about patching assets together: to convalesce from the past and salvage something from the present for the future – whether you're an object or an individual.