Neon Workshops
Polly Checkland Harding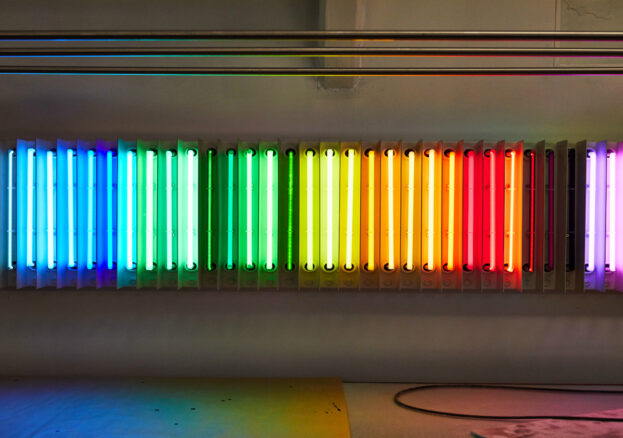 Making, installing, exhibiting and teaching neon since 2010, Neon Workshops is perhaps one of Wakefield's coolest companies. There's something immediately iconic about this gently glowing, creatively shaped lighting, first commercially produced in Paris over a century ago. Initially adopted as an advertising tool, neon has subsequently been picked up by artists such as Bruce Nauman and Tracey Emin – particularly those interested in the frontier between art and commerce. Wakefield's Neon Workshops are specialist modern practitioners, developing and manufacturing neon lighting for people across the creative industries, as well as hosting an annual exhibition programme and significant resource library in the city centre.
Better still, this company is all about sharing the wealth of their expertise: Neon Workshops hold regular neon sculpture courses both in Wakefield and internationally, at cities including Berlin, New York, Paris and Bergen. These range from a two hour neon taster session, featuring mesmerising demonstrations of cutting, blowing, stretching, bending and fusing glass with flame, to a full blown Masterclasses, led by some of the leading figures in the industry. There's an opportunity to take home your own creation on the One Day Intensive, or take part in the famous neon quiz as part of Neon Sundays. Neon Workshops is also behind flexible venue and creative space 7A, taken on to deliver larger projects – keep an eye on the website for more.
Book a workshop, visit a temporary exhibition or browse Neon Workshops' online shop, stocked with limited edition prints, artwork, books and postcards. Whatever you choose, you'll be in great hands – this is a company that has produced commissions for the likes of Alfredo Jaar, Tim Etchell and Tom Heaton OBE. Neon Workshops is also behind the You May Find Yourself In A Beautiful House sign at Headrow House in Leeds, and Martin Creed's Work No. 203: Everything Is Going To Be Alright at The Harris in Preston. These are people at the very top of their game.