RNCM Symphony Orchestra with Martyn Brabbins (conductor)
Johnny James, Managing Editor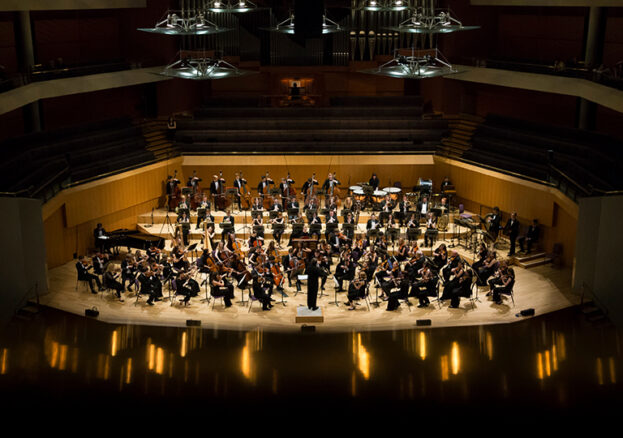 Join the RNCM for what's always a highlight of the College's year: the RNCM Symphony Orchestra's performance at The Bridgewater Hall, this year conducted by Music Director of English National Opera, Martyn Brabbins. The programme includes Façade, a new work by composition student Matthew Martin; Tchaikovsky's Piano Concerto No 1, performed by award-winning pianist and RNCM alumus Maxim Kinasov; and Shostakovich's devastating Symphony No 8.
Shostakovich's eighth symphonic work – one of his three so-called war symphonies – dates from the dark days of 1943 and reflects suffering on a massive scale. Initially, the government-supervised Soviet musical press were supportive of the symphony, whose composer said it reflected his elevated creative mood, influenced by the joyful news of the Red Army's victories, and contained the philosophical message "life is beautiful. All that is dark and evil rots away, and beauty triumphs". But listening to the darkly contemplative, brutally intense work, Stalin's regime saw through Shostakovich's sardonic explanation of the symphony, condemning it as a wilful expression of defiance from which he had no option but to retreat under a veil of public dishonour.
But it was precisely the public for whom the work was really written; it's an expression of their turmoil, not only during the war but under the rule of Stalin, who at this point had caused millions of deaths in his own country. "I had to write about it", Shostakovich wrote in his memoirs. "I had to write a Requiem for all those who died, who had suffered. I had to describe the horrible extermination machine and express protest against it." As such, no work of Shostakovich is grimmer, more violent, and yet it's ranked by scholars as being among the composer's finest scores, owing much to Mahler in its subversion of traditional symphonic structure. From its darkly pondering opening to the crushing weight of its inner movements all the way to the tellingly hollow "triumphant end", it's a monster of a symphony, and quite the closer.
Conveying a very different mood we have Tchaikovsky's Piano Concerto No 1, whose mighty opening chords are some of the most famous in all of classical music. The rest of the work is equally as impassioned, with beautiful interplay between soloist – here the award-winning RNCM alumnus Maxim Kinasov – and orchestra. Hans von Bülow, who gave the work its premiere, wrote to the composer that the concerto "displays such brilliance, and is such a remarkable achievement among your musical works, that you have without doubt enriched the world of music as never before. There is such unsurpassed originality, such nobility, such strength, and there are so many arresting moments throughout this unique conception".
Completed by a brand new work by RNCM composition student, Matthew Martin, the programme is a brilliant one that will no doubt shine brightly under the baton of Martyn Brabbins, an inspirational force in British music who brings a Romantic sensibility, an unerring sense of pace and an extraordinary ear to everything he touches.
The concert is part of the RNCM's Summer Season, which you can read more about in our dedicated guide.