Nudo Sushi Box
Lizzie Wood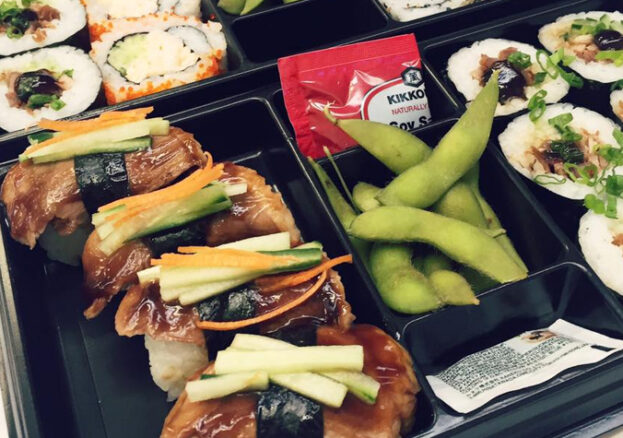 Fresh, healthy and fast – Nudo Sushi Box is one of our lunchtime loves.
Oxford Road has started to become a more credible spot for food. From much-loved burrito joints Changos and Panchos  up to Italian cicchetti spot San Carlo Fumo, there is plenty for the student population and local businesses alike to choose from when it comes to lunch hour.
Nudo Sushi Box, a slick sushi bar, originated from Nudo Noodle House restaurant in Newcastle in 2009, where hearty comfort food was the order of the day. Today, it has nine locations across the UK including three in Manchester. The dining concept has evolved somewhat. The first branch to open outside of the North East, Nudo on Oxford Street offers a range of sashimi selections, futomaki and nigri boxes, salads and sides (the seaweed salad is a must), as well as tempting bowls of steaming soup noodles.
It's a perfect fit for local office workers eating al-desko
Open from 8.30am to 9.00pm most days, we're pleasantly surprised to find that there are still plenty of people browsing when we visit at 7pm. The staff point us in the direction of a Salmon Sakura set, which is deliciously fresh and of a generous size. Everything is made fresh to order – and you can tell. The prices are reasonable too, with the larger boxes marked at around £5, smaller sets at £3, while the salads and 'small eats' start from around £2.
The food here has a clean taste (a refreshing change from the dirty food revolution synonymous with Manchester's Northern Quarter). Nudo offers a sit-in service, but we get the impression that much of its trade relies on take-away; it's a perfect fit for local office workers eating al-desko. It might not be big on atmosphere, but this Oxford Road sushi bar is a sign of things to come. And not a sandwich in sight.
This is an independent review, but our writer didn't pay for her meal. For more info on our editorial policy, read our About page.