Psappha: String Theories (3×3) at Hallé St Peter's
Johnny James, Managing Editor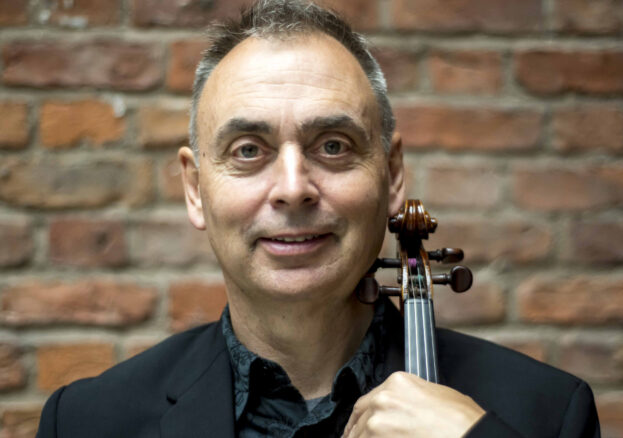 Kicking off Psappha's long-awaited 2020-21 series will be String Theories, a socially distanced, string-based concert at Hallé St Peter's. Part of a subseries of three concerts showcasing contemporary music for three-strong ensembles, this concert will feature Alfred Schnittke's contemporary classic String Trio alongside UK/world premieres by Anna Thorvaldsdottir, Jeffrey Mumford and Alex Ho.
First, Psappha will give the UK premiere of Spectra by Anna Thorvaldsdottir, a composer whose music calls to mind the mighty natural forces of her native Iceland. Described by the New York Times as possessing a "seemingly boundless textural imagination", Thorvaldsdottir is regarded as one of the most interesting musical voices to emerge from the Nordic country since Sigur Rós or Björk (who, naturally, is a fan). "My music," says the composer, "is an ecosystem of materials that are carried from one performer to the next… growing and transforming throughout" – the kind of collectivist spirit that fractious times such as these call for.
Next up in the programme is the UK premiere of Eight aspects of appreciation II by American composer Jeffrey Mumford. A recipient of numerous fellowships, grants and awards, Mumford is another highly regarded composer whose music employs complex layers of sounds. His latest work is a finely crafted revision of an earlier set of fizzing variations. Starting in dialogue, the voices (violin and cello) soon drift apart, growing increasingly agitated by way of blunt outbursts, followed by quiet ruminations.
Psappha will then present the world premiere of Shout! by Alex Ho. Despite being only 27, the British-Chinese composer has had his pieces performed/commissioned by some of the most prestigious orchestras and classical institutions in Europe. His music often explores social and cultural issues, and ranges from orchestral, choral and solo instrumental pieces to works for plastic bags, table-tennis players, and audience participation. Written especially for Psappha cellist Jennifer Langridge, his latest piece embodies the spirit of Chinese lion dancing, taking as its stimulus the sounds and theatricalities of the form.
Finally, Schnittke's String Trio. Scored for violin, viola and cello, this intensely gripping work was composed in 1985, nearing the end of the composer's most prolific creative period. It was commissioned to mark the centenary of Alan Berg, a Viennese composer whom Schnittke regarded as "above all others". He shared with Berg a deep fascination with the Viennese masters, particularly Mahler and late Schubert. He also admired – and mirrored – Berg's tendency towards wayward harmonic language and pervasive angst.
Schnittke's String Trio is by turns somber and convulsive, with moments of poignant introspection juxtaposed with fearsome violence. Premiered at the Moscow Conservatory in 1985, the musicians involved (Oleh Krysa, Fyodor Druzhinin and Valentin Feigin) described it as possessing "unusual, grim, almost alarming notes — perhaps premonitions…". The following month, Schnittke collapsed and was rushed to hospital, where he was pronounced clinically dead three times before regaining consciousness.
Alongside the three premieres, Schnittke's tumultuous work should make for a thrilling concert at Hallé St Peter's. To ensure audience members' safety and to observe social-distancing regulations, Psappha will be selling only a very limited number of tickets, so don't delay if you'd like to attend. Alternatively, if you'd rather enjoy the concert from home, then you'll be able to tune into a free livestream of the performance via Psappha's website.