Phoebe Davies: Points of Rupture at Site Gallery in Sheffield
Sara Jaspan, Exhibitions Editor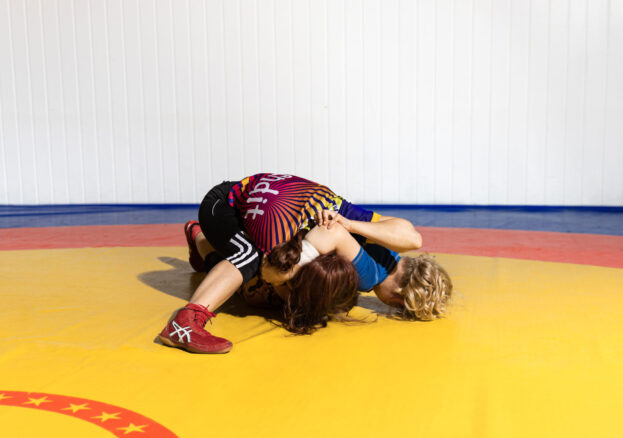 While contact sports such as boxing or rugby can serve as cathartic outlets of aggression for some, they can also act as sites of compassion, tenderness, touch and connection. For her first solo exhibition, Welsh artist Phoebe Davies presents a new body of work inspired by her time spent with a group of teenage female wrestlers training in a local club on the outskirts of Oslo, and her own experience of ongoing recovery from a ligament injury that occurred whilst playing basketball.
Points of Rupture at Site Gallery in Sheffield centres around tactility, training and the recovery of athletes engaged in contact sports as part of Davies' wider interest in the physicality and personal narratives of occupying communal and competitive spaces. The show's centrepiece will be a new moving image work that documents day-to-day routines at the Oslo wrestling club, alongside moments of combative and compassionate exchange. This will be accompanied by a multichannel soundscape and installation employing sports aesthetics, agility drills, plays and structures that considers the limits of stamina, rest and physical and mental exhaustion.
Davies comes from a background in social work and her broader practice investigates how people perceive their social framework, often working with and in response to communities and exploring collaborative models of working across different social and cultural sectors. In the past, she has made work with sex educators, secondary school students, elderly residents in care homes, sports teams and DJs as well as art spaces and institutions.
The exhibition has been extended and reopens on 9 September after Site Gallery closed over lockdown.