Phil Collins: Can't Do Right For Doing Wrong at HOME
Sara Jaspan, Exhibitions Editor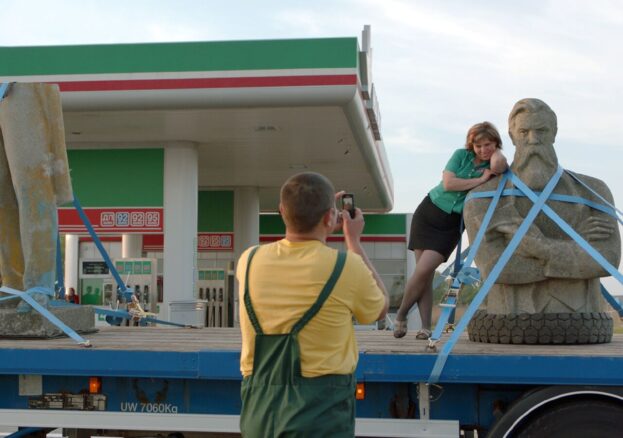 It's now been almost exactly one year since Friedrich Engels first took up his place, stony-faced, outside the entrance to HOME (quite literally within spitting-distance from the glowing lights of Sainsbury's, Pizza Express and several glass-clad corporate buildings). The decommissioned Soviet statue was sourced from a small village in Ukraine and transported to Manchester (the city where Engels lived for 20 years and wrote his seminal communist text, The Condition of the Working Class in England) as part of a project by the Turner-prize nominated artist Phil Collins for Manchester International Festival 2017.
In a second wave of anti-capitalist energy, Collins' work – sharply defined by his critical take on the social conditions of Britain today and the tireless global pursuit of exponential economic growth – is about to come under the spotlight once again with his major upcoming solo exhibition, Can't Do Right For Doing Wrong, at HOME.
Among the three extensive works included within the show, visitors will have a second chance to experience Ceremony after it was first broadcast in the NCP Bridgewater Car Park on the closing day of MIF 2017, which fell within the Russian Revolution centenary year. The film features footage of (statue) Engels' rather colourful journey across Europe, scenes from his 'homecoming party' and inauguration at Tony Wilson Place, and the results of Collins' own prolonged enquiry 'into the condition of the working class in England', which saw him collaborate with local organisations, activists and communities to explore the lives of 21st century workers in Manchester and the social impact of seven years of Conservative-driven austerity measures.
Alongside this, Delete Beach – developed in collaboration with STUDIO4°C, one of Japan's leading animation studios (Tekkonkinkreet), and the award-winning composer Mica Levi (Under the Skin) – will also be on show. First presented at The Aesthetics of Resistance Festival 2016 in Berlin and inspired by the eco-feminist themes which propose anime as a political genre, the futuristic tale tells the story of a Japanese schoolgirl who joins an anti-capitalist resistance group in a society where carbon-based energy is illegal, but which continues to toil under the regime of expansion and growth.
Lastly, moving away from film into sound, my heart's in my hand, and my hand is pierced, and my hand's in the bag, and the bag is shut, and my heart is caught (2013) responds to the experiences of guests at the GULLIVER Survival Station for the Homeless, located under the railway arches at Cologne's central station. British-born, Berlin-based, Collins gathered material from more than a thousand recordings of anonymized phone calls made from the centre and posted these to a group of international musicians, inviting the recipients to use the calls as the basis for original new songs to be presented as 7" vinyl records in a series of specially designed listening booths.
HOME's recent exhibitions have all demonstrated notably creative ways of presenting film and sound, so it will be interesting to see how this diverse span of works is approached. Ultimately, however, Can't Do Right For Doing Wrong is about re-connecting Manchester with its radical history as the birthplace of communist theory, and encouraging visitors to re-engage with this legacy in relation to the struggles of many living under the late consumer-capitalism system of today. A laudable ambition, in our view.