MIF17: Ceremony at Bridgewater Hall Car Park
Sara Jaspan, Exhibitions Editor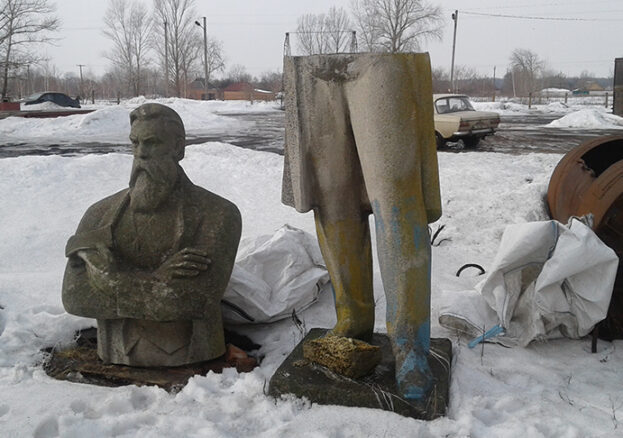 In what promises to be a truly extraordinary conclusion to MIF17, Ceremony by Phil Collins will draw the festival to a close with an epic homecoming celebration to mark the return of Manchester's adopted son and life-long champion of the working classes, Friedrich Engels, to the city.
Over the last year, the Turner-prize nominated artist has journeyed across Europe and back to collect a decommissioned Soviet-era statue of the great German political theorist; visiting places of importance to Engels' life and work along the way. Video footage from their travels will be mixed with live coverage of the statue's grand inauguration at Tony Wilson Place (where it will permanently remain), to form a unique cinematic experience broadcast on a large screen in the NCP Bridgewater Car Park.
Collins collaborated with Manchester-workers and residents on the making of Ceremony, and the piece will feature stories of everyday resistance as told by the people of the city. The occasion falls exactly 100 years after the Russian Revolution, which was shaped by the ideas contained within Karl Marx's Communist Manifesto, the writing of which links directly back to the pair's experiences and political discourse in Manchester, informed by their observations of the conditions of the city's factory workers and where Engels had run his father's business, Ermen & Engels, at Victoria Mill.
A soundtrack by Mica Levi and Demdike Stare, and new anthem by Gruff Rhys (of Super Furry Animals), will weave throughout the film, accompanied by live footage from a series of performances in and around Tony Wilson Place to celebrate the statue's unveiling. Altogether, Ceremony will exist as a vivid portrait of the city – neatly echoing the ideas behind MIF17's opening: What Is the City but the People?
Collins' longstanding interest in Engels stems from his acclaimed video projects, Marxism today (prologue) (2010) and use! value! exchange! (2010). Both pieces were made in collaboration with former teachers of Marxism-Leninism in Communist East Germany, and will be shown at a special screening at HOME on 8 July. MIF17 has been designed to respond to the politics of the present and Collins' piece certainly falls in-line with this approach. As the artist comments: "In harrowing times for so many, it's more important than ever to remember Engels' legacy – and the spirit of solidarity and dignity which beats at its core." Inspiring words for what is sure to be a strong finish to this year's festival, and a singular moment in the city's history.