CANCELLED – Parasite at HOME
Tom Grieve, Cinema Editor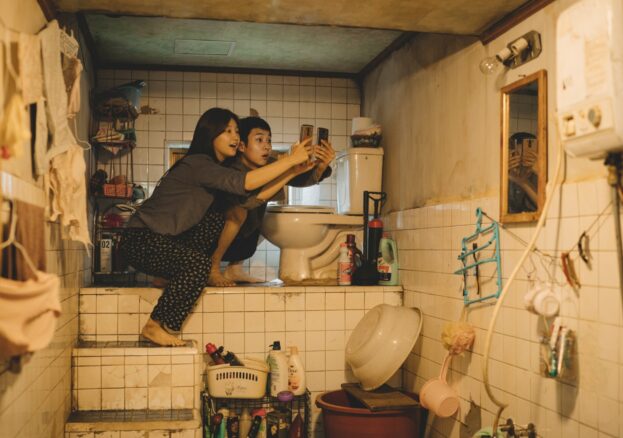 Bong Joon-ho's Cannes Palme d'Or-winning Parasite finally hits UK cinema screens this February following months of awards, nominations and critical adulation – but this spiky, socially-conscious Korean thriller is not your typical contender. Parasite follows two families, the Kims and the Parks. We meet the Kim family — father Ki-taek (Song Kang-ho), mother Chung-sook (Chang Hyae-jin), son Ki-woo (Choi Woo-shik), and daughter Ki-jeong (Park So-dam)  – living in their semi-basement apartment. As with many around them, they struggle for work, existing on odd menial labour such as folding pizza boxes.
The Kims' fortunes take a turn when Ki-woo is offered the chance to tutor Da-hye (Jeong Ji-so), the high school aged daughter of the wealthy Park family. Armed with forged documents, Ki-woo pretends to be a college student and ingratiates himself with the family, particularly gullible mother Yeon-gyo (Cho Yeo-jeong.) He recommends his sister who impersonates an art therapist to teach the Parks' youngest son — and budding Basquiat — Da-song (Jung Hyeon-jun.) Before long the pair have tricked and schemed their parents into jobs within the household too.
Parasite is a film built on suspense and sleight of hand. Its slick technique and compelling characters have earned its director comparisons to Spielberg and even Hitchcock. Director Bong deftly orientates us in the Parks' modernist house, as its pristine staircases, huge windows and sheltered garden prove a playground for deception and, eventually, violence. Bong's previous two films, Snowpiercer and Okja were also concerned with social inequality, but in their use of metaphor and sci-fi elements they felt overly straightforward. Parasite is greyer, knottier – and all the better for it.