Painting Pop at Abbot Hall
Sara Jaspan, Exhibitions Editor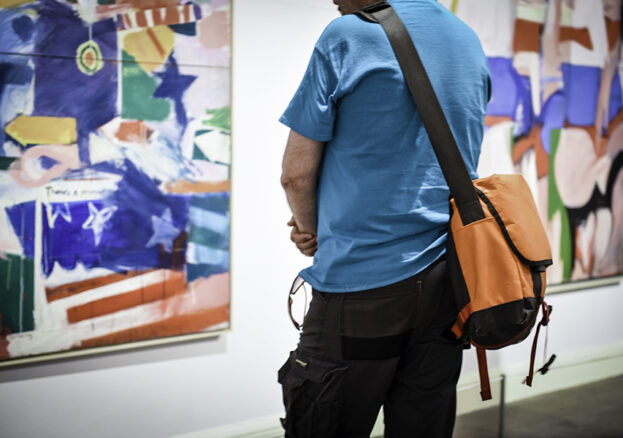 While Tate Liverpool's upcoming Artists Rooms exhibition, Roy Lichtenstein in Focus, examines one of the giants of American Pop Art; Abbot Hall's summer show, Painting Pop, returns us to the very roots of the movement: Britain. Drawing together key works by artists including Sir Peter Blake, Pauline Boty, Patrick Caulfield, Richard Hamilton, David Hockney and Allen Jones; the exhibition tells the story of how an explosion of colour and imagery erupted from the gloom of post-war austerity.
1954 marked the year that World War II food rationing came to an end in the UK, and consumer culture and brand marketing began to take off. At the same time, a number of young painters, sculptors, architects, writers and critics were beginning to challenge prevailing modernist approaches to culture and traditional views of fine art. Elements of (chiefly American) mass advertising, movies, product design, comic strips, science fiction and technology began seeping across canvases and other mediums; directly opposing any elitist hierarchy of subject matter, while also reflecting on the changing nature of society. By the 1960s, Britain had become a place of burgeoning freedom of expression, and the young artists emerging from art school were keen to capture the energy this unleashed.
Yet, why did they choose to do so through the traditionally 'high art' medium of paint? This seeming contradiction forms one of several aspects of the movement that the curators at Abbot Hall seek to explore within the show. Other points of departure include a closer attention to how the political and historical events taking place shaped Pop Art, and how it both celebrated and critiqued contemporary culture at the time. The show also includes works by several lesser known artists, such as Boty, who helped found the movement. Boty's less overly sexualised portrayal of her Hollywood hero, Marilyn Monroe, in Colour Her Gone (1962), presents a noticeable subversion of the male gaze in works by Richard Hamilton or Andy Warhol, for example, as well as addressing the rise of celebrity culture.
Overall, Painting Pop is a stark reminder that, while many may associate Pop Art with America, Andy Warhol, Roy Lichtenstein and Jasper Johns; its British origins are just as bold and iconic, capturing a fascinating moment of cultural transition within the country's history.