ARTIST ROOMS: Roy Lichtenstein in Focus at Tate Liverpool
Sara Jaspan, Exhibitions Editor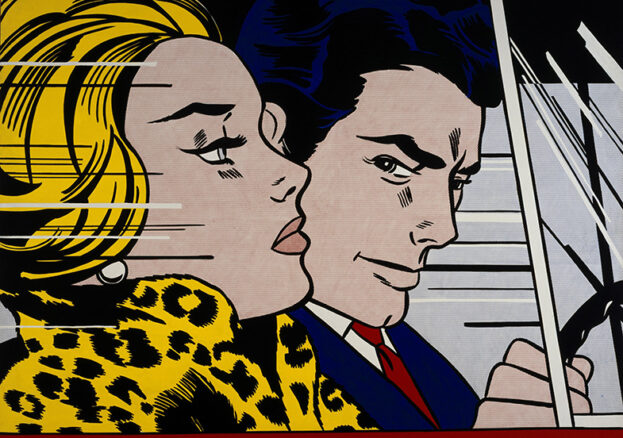 A 'Whaam!' of colour is set to arrive at Tate Liverpool this September with the opening of an exhibition dedicated to the work of America Pop Art legend, Roy Lichtenstein. Featuring several of his most famous pieces, as well as some lesser-known, rarely seen gems, the display promises to provide a fascinating overview of an artist whose career helped reinvigorate the American art scene and alter the history of modern art.
Lichtenstein first rose to prominence in the 1960s, coinciding with the moment when consumerism in America truly took off. Responding to the cultural and political changes taking place, he began incorporating comic strips, advertising imagery and other elements of popular mass culture into his often monumentally sized paintings – describing these as "purely American mythological subject matter." It was also during this period that he began perfecting his signature Ben-Day dots technique, which mimics the crude printing methods seen in comic books and commercial newsprint. Such 'low art' references were traditionally considered too trivial for the art world; a position that Lichtenstein was keen to critique and undermine by exposing as nothing more than an artificial set of prevailing tastes and conventions.
The artist continued to experiment tirelessly throughout his long career, working across sculpture, collage and video in addition to painting. Lichtenstein in Focus will include his rarely seen, single foray into film: Three Landscapes (c. 1970–1971), which is being presented for just the second time in Europe, offering a unusual insight into this one-off part of Lichtenstein's practice. The piece was made over two weeks at Universal Studios in 1969 as part of the Los Angeles County Museum of Art's innovative Art and Technology programme, which placed a number of international artists in residence with leading California-based industries. It was filmed at Long Island in New York in collaboration with the independent filmmaker Joel Freedman, and consists of a mesmerising hybrid of moving image, painting, billboard, comic strip and kinetic spectacle; immersing the spectator in an ambient sea of juxtaposing footage that explores the movement of light and water.
Similar concerns around opticality also arise elsewhere within the show, for example in Wall Explosion II (1965) and Reflections on Girl (1990), where Lichtenstein harnesses the glossy effect of synthetic materials like polymer paint to create mirrored surfaces, and contrasting, reflective effects.
Lichtenstein in Focus brings over 20 significant works by one of America's most renowned artist to the North West, charting the trajectory of his progress from obscurity to international acclaim. Altogether, the exhibition looks set to provide an invigorating, colourful encounter.