Naomi Booth, Niamh Mulvey and Saba Sams at Blackwell's
Sarah-Clare Conlon, Literature Editor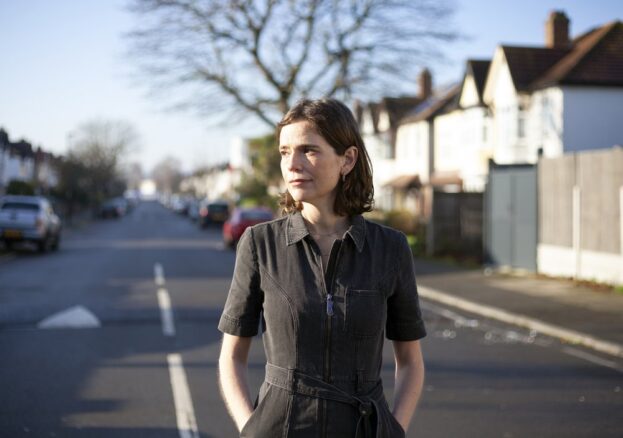 Join Lucie McKnight Hardy to celebrate the launch of three new short story collections: Animals At Night by Naomi Booth, Hearts And Bones by Niamh Mulvey and Send Nudes by Saba Sams.
Animals At Night is Naomi Booth's first collection of short stories, published by Liverpool's Dead Ink Books, who also published her novels Sealed (which was shortlisted for the Not The Booker Award in 2018) Exit Management (a Guardian Best Fiction Book of 2020). Her 2015 novella, The Lost Art of Sinking, was published by Penned In The Margins. Her stories have been long-listed for the Sunday Times EFG Short Story Award and the Galley Beggar Press Short Story Prize, and anthologised in Best British Short Stories 2019.
Animals At Night is a collection of stories that illuminate the strange nocturnal meetings between humans and other animals: a woman feeding a baby late at night listens to the animal sounds in the city around her; a grieving widow encounters an injured jellyfish on a deserted beach; a young woman can't shake the image of a dying hare she finds at the side of the road; a dairy farmer hears her herd bellow with fear at night.
"Quiet revolutions happen in living rooms, on river banks, in packed pubs and empty churches, and years later we wonder why we ever did the things we did."
Picador are publishing Niamh Mulvey's debut collection Hearts And Bones this June. Niamh says: "It's a collection of short stories, it's about Ireland, and the relationship between Ireland and London; families, love, misunderstanding and heartbreak." Set between Ireland and London in the first two decades of this millennium, the ten stories in Hearts And Bones are described as "witty, sharply observed and deeply moving" and look at the changes that have torn through these times and ask who we are now that we've brought the old gods down. The blurb says: "A young woman learns to wield her power, leaving casualties in her wake, while a man from a small town finds solace in a strange new hobby. A watchful child feels a breaking point approach as her mother struggles to keep her life on track, and another daughter steps onto a stage while her family in the audience hope that she is strong enough now to take on the world. First-time lovers make mistakes, brothers and sisters try to forgive one another, and parents struggle and fail and struggle again. Teenage souls are swayed by euphoric faith in a higher power and then by devotion to desire, trapped between different notions of what might be true. Quiet revolutions happen in living rooms, on river banks, in packed pubs and empty churches, and years later we wonder why we ever did the things we did."
Niamh Mulvey is a writer, editor and writing coach, working part-time for London Writers Salon, and previously working for ten years in UK book publishing as a commissioning editor. Her work has appeared in The Stinging Fly, Banshee, Southword, the Irish Times, the Bookseller and Unherd, and her first novel, The Amendments, will be published in 2023.
Saba Sams is a fiction writer based in London. Her stories have appeared in The Stinging Fly and The Tangerine, and she was shortlisted for The White Review Short Story Prize in 2019. Saba Sams' debut collection of short stories Send Nudes was published by Bloomsbury earlier this year, and described by the Guardian as "rare and uplifting". Madeleine Feeny described it as "acute portraits of the fragile intimacies and euphoric moments snatched by a generation of women coming of age into a precarious future".
Here's the lowdown: "In ten dazzling stories, Saba Sams dives into the world of girlhood and immerses us in its contradictions and complexities: growing up too quickly, yet not quickly enough; taking possession of what one can, while being taken possession of; succumbing to societal pressure but also orchestrating that pressure. These young women are feral yet attentive, fierce yet vulnerable, exploited yet exploitative. Threading between clubs at closing time, pub toilets, drenched music festivals and beach holidays, these unforgettable short stories deftly chart the treacherous terrain of growing up – of intense friendships, of ambivalent mothers, of uneasily blended families, and of learning to truly live in your own body. With striking wit, originality and tenderness, Send Nudes celebrates the small victories in a world that tries to claim each young woman as its own."
Lucie McKnight Hardy's Water Shall Refuse Them (2019) and Dead Relatives and Other Stories (2021) are published by Dead Ink Books, both brimming with suspense and trepidation. The former advertising, public relations and marketing executive, with a degree in English from the University of Liverpool and an MA in Creative Writing from Manchester Metropolitan University, also has stories in the anthology Writing The Uncanny, alongside the likes of Jenn Ashworth and Nicholas Royle, as well as Comma Press's The New Abject, alongside Mark Haddon and Lara Williams.