Melanin Markets Manchester at HOME
Creative Tourist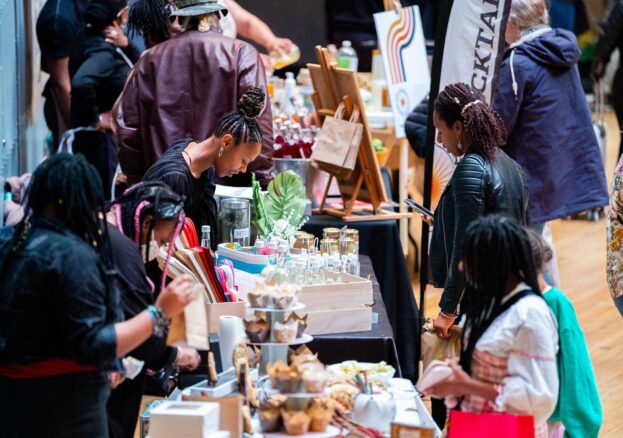 Celebrating and promoting Black-owned businesses, the brilliant Melanin Markets takes over the ground floor of HOME this Sunday, for a special King Edition.
Melanin Markets has gone from strength to strength this past year. The initiative, led by Black female entrepreneurs Bianca Danielle and Kelly Morgan, has brought together thousands of people, from all communities, in places like Contact and The Royal Exchange to celebrate, promote and spend with an incredible range of Black-owned businesses.
As always free to attend, the HOME edition of Melanin Markets comes with a twist: For the first time ever, the event will place a special spotlight on Black men in business, creating a safe, authentic atmosphere for Black men to showcase the interests and narratives they hold.
There will be over 30 businesses taking over the ground floor of HOME from 12-5pm on Sunday 9 October, including East African, Caribbean and fusion food and drink businesses, live art and hair services, and brands specialising in everything from homeware to African clothing and accessories.
A few words from Bianca and Kelly, the Directors and Producers of Melanin Markets:"We are two Manchester based, Black female entrepreneurs who have created a vehicle aiming to address the lack of diverse representation, inclusion and opportunities for people who look like us within the Business sector.
We stand in alignment with the Black Pound Day movement, which aims to address the economic inequalities and imbalances affecting Black businesses and entrepreneurs in the UK and global diasporic communities – We welcome and encourage ALL COMMUNITIES to enjoy, celebrate and spend at Melanin Markets."
For more events like this, taking place during Black History Month, check out our guide.