Kimsooja: To Breathe at Yorkshire Sculpture Park
Sara Jaspan, Exhibitions Editor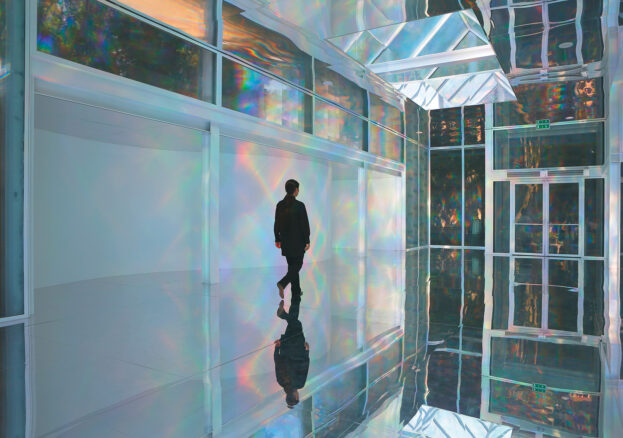 This spring, leading South Korean conceptual artist Kimsooja will transform Yorkshire Sculpture Park's 18th century chapel into a mesmerising environment inspired by the meditative qualities of space and eastern notions of the Void.
Following on from her early painting-based practice, Kimsooja uses light and mirrors to turn architectural spaces into 'liquid-like surfaces' and create installations that exist, in her own words, as an ever-expanding fabric "sewn by our gaze." Refracted light and unusual angles blur boundaries and provide infinite views intended to create an experience of 'active concentration' among visitors, and a heightened sense embodiment. A soundtrack of the artist's breath accompanies the piece, creating an intimate and shared encounter. She explains: "My interest in void lies in the relationship between Yin and Yang, as a way of inhaling and exhaling, which is the natural process of breathing, as a law of living."
Her earlier reference to sewing is not coincidental, having been inspired throughout her more than 30-year-long career by traditional forms of female labour and craft; something which she traces back to first making quilts with her mother as a child. Since the 1980s, she has travelled extensively, exploring the cultural importance of clothing, textiles and the associated acts of making as a way of investigating the role of women across different cultures.
Kimsooja is perhaps best known for her performance/video work 'A Needle Woman' (1999), in which she stands still in a busy city centre; an island of calm as people rush by around her. Related to this piece, the artist's 14-metre-high sculpture 'A Needle Woman: Galaxy was a Memory, Earth is a Souvenir' (2014), recently shown at Frieze Sculpture, will also be sited close by to the chapel. The elegant 46ft high steel spire and its internal environment features nanotechnology film that closely mimics the iridescence of butterfly wings and is intended as "an inverse expression of our perspective of the universe" (Kimsooja), shaped by French philosopher Henri Bergson's thoughts on memory and metaphysical perception.
Following on from artist Chiharu Shiota's monumental web-installation within the chapel last year, Kimsooja's To Breathe looks likely to be every bit as impressive. Did the classical architect William Wentworth know in 1744 that he was building a temple for great contemporary art?