Chiharu Shiota: Beyond Time at Yorkshire Sculpture Park
Sara Jaspan, Exhibitions Editor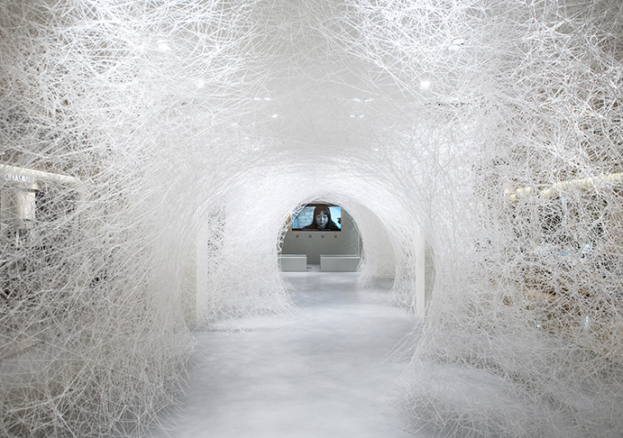 Full of history, the serene 18th-century St Bartholomew's Chapel is a special place within Yorkshire Sculpture Park's artfully landscaped grounds, which never fails to add something of its own to the rotating programme of contemporary art that is now shown there. The upcoming exhibition, Beyond Time by Chiharu Shiota, looks likely to be a perfect example of this. The Japanese Berlin-based artist is renowned for her monumental installations using thread, which completely takeover whatever space they inhabit – ensnaring and entangling the viewer within a fine web of rich visuality.
Shiota studied for a period under the 'grandmother of performance art' – Marina Abramović – and weaves elements of performance, installation and painting throughout her practice. As a student, she became frustrated by the limitations of painting on a flat surface and first took to yarn in 1994 whilst studying in Australia, finding it allowed a new means of exploring breadth and space. Within her giant networks of thread, each strand becomes a never-ending line on a limitless three-dimensional canvas, or physical manifestation of her thoughts. Human relationships and personal experience are central to Shiota's work, which often uses everyday, intimate objects such as shoes, wedding dresses, letters, keys or even beds, to explore themes of loss, oblivion, death, memory and belonging within a wider social and political context.
Woven from 2,000 balls of wool, Beyond Time will mark a notable departure from Shiota's signature use of red and black, as she switches to white thread for this new, site-specific commission. White being a very spiritual colour, the decision will undoubtedly resonate with the past religious function and heritage of the chapel, which dates back to 1744. The piece is intended to emerge as a seemingly ethereal, floating composition (or 'painting in mid-air') from a steel structure which has been designed to reference a musical instrument – honouring the chapel's musical past; a place where bells once rang out and countless hymns were sung.
This will not be the first time Shiota presents work in a religious setting. One of her most recent commissions, Lost Words (2017), occupied the interior of Berlin's oldest church, the St. Nikolai Kirche, filling the space with thousands of sheets of paper pulled from Bibles written in 100 different languages. The highly political piece referenced immigration and the history of Christianity in Japan; a practice which was banned and violently repressed during the 17th century. Though not religious herself, Shiota was raised by Buddhist parents and is interested in the idea of all religions being linked by threads of connection. As such, it will be fascinating to see how she responds to YSP's chapel and the wider history of the area.