Sandal Castle
Polly Checkland Harding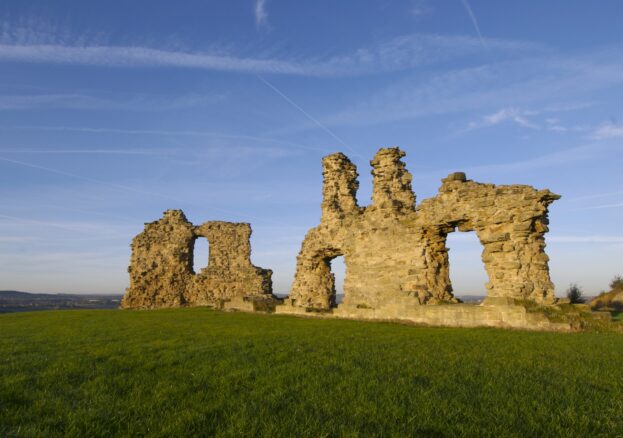 Now in ruins overlooking the Yorkshire countryside, Sandal Castle was once an imposing medieval construction and the site of major events in Britain's history. Open year-round, the castle commands incredible views of the Calder Valley, and is home to events and activities throughout the year. Currently undergoing conservation work as Wakefield Council and Historic England protect the castle for future generations, this was the setting of several scenes in Shakespeare's play Henry VI, Part III, and the spot where excavations in the 1960s and '70s uncovered treasures that are now in Wakefield Museum, including a 500-year-old gold love ring, inscribed with the words 'I'm all yours' in medieval French.
And yet Sandal Castle had humble beginnings, first constructed as an earthwork motte and bailey castle that was completed around 1130. Archeological evidence suggests that the rebuilding of the castle in stone began at the end of the 12th century and continued through the 13th century, with documents referencing materials being supplied in 1270 and 1275. The site is perhaps most famous for the Battle of Wakefield, one of the major events in the War of the Roses, which was fought on Wakefield Green below the castle. Here, the Duke of York was mortally wounded – but the castle itself escaped being damaged. After the battle, decline and decay followed; apart from its use as a Royalist garrison in 1645 during the Civil War, the castle was allowed to fall into the ruin it is now.
Today, it exists as a popular heritage attraction, with an independent, family-run and dog-friendly café in the former visitor centre – a favourite spot for the dramatic views of the castle itself. Here, you can enjoy daily specials and Sunday lunches cooked fresh on-site, as well as ice cream, hot and cold drinks and more. Open year-round, parking at Sandal Castle is free (check the website for opening times), and there are regular buses to Wakefield that stop a ten-minute walk away, while hourly trains connect Wakefield Westgate with Sandal and Agbrigg station, a twenty-minute walk away. Come to discover the role of this unique heritage site in British history – and follow the trail to Pugneys Country Park if you want to stretch your legs a little further.