Future Sessions: Atmospheric Memory at the Science and Industry Museum
Johnny James, Managing Editor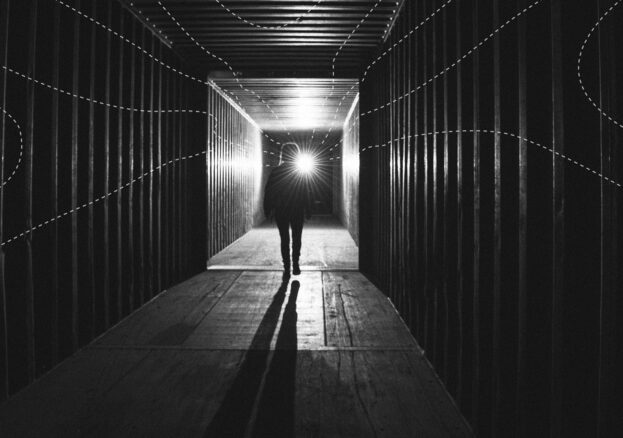 What do our voices look like? How do they feel to the touch? Rafael Lozano-Hemmer's immersive installation, Atmospheric Memory, holds out some delightful answers. It also poses some rather more serious questions about today's technologies and their bearing on tomorrow's society. Exploring digital futures, heritage and ownership, this breathtaking work will be presented alongside a programme of talks, walking tours and conversations at the Science and Industry Museum between the 2 and 8 July. Programmed by FutureEverything, here's what to expect from Future Sessions: Atmospheric Memory.
In 1838, English mathematician, philosopher and inventor of the first mechanical computer, Charles Babbage became obsessed with a curious idea. What if each of our words – words essentially being tiny turbulences of air – were somehow imprinted upon the atmosphere? And what if there was some technological way to 'rewind' the movement of all air molecules, so that we could recreate the voices of everyone who has ever spoken in the past? Fast forward 180 years, and Mexican-Canadian artist Rafael Lozano-Hemmer has decided to investigate Babbage's intriguing proposition.
Atmospheric Memory is a major new co-commission with Manchester International Festival, the Science and Industry Museum, FutureEverything and ELEKTRA/Arsenal, Montreal. At once a daring artwork and a sensory performance, it utilises both state-of-the-art technology and classic phantasmagorical effects in order to transform speech into things that can be seen and touched: trails of vapour, ripples on water, epic 360-degree projections and more.
Looking to the past on the one hand, this work gestures towards the present and future on the other. Specifically, it calls to mind our vast accumulation of data, as well as current digital communications technologies such as cloud computing. Lozano-Hemmer's work is thus the perfect starting point for a symposium exploring the societal impacts of such technologies. This will take place on the 8 July, with a series of scintillating debates, conversations and participatory sessions about digital heritage, future histories and voices in the context of the cloud, ownership, power and control.
Entitled The Air of Turbulence, this symposium will bring together field-leading artists, researchers, technologists and scientists including Atmospheric Memory artist Rafael Lozano-Hemmer, curator José Luis de Vicente, artists Katriona Beales and Anna Ridler, Dr Sarah Mander, Senior research Fellow, Tyndall Manchester Climate Change Research, William Tunstall-Pedoe, entrepreneur and founder of Evi and many more. Over the course of what promises to be an illuminating day, everything from machine learning to facial and voice recognition will be up for discussion.
On the 6 and 7 July, meanwhile, there will be two walking tours across Manchester entitled Voices in the air, Ghosts in the machine. Lead by local tour guide Anne Beswick, participants will travel back to the Victorian age and its mechanical stage illusions, before moving through to early computing and then onto the contemporary experiential technologies found in Atmospheric Memory. And finally, artist Rafael Lozano-Hemmer will be joined by curator José Luis de Vicente for an In Conversation event on the 6 July. The pair will unravel the ideas behind this highly ambitious project and how Babbage's remarkable ideas relate to our increasingly technologically-driven society.
Expect sublime creativity and fascinating insights at Future Sessions: Atmospheric Memory, which is available to book now.
Commissioned by Manchester International Festival, Science and Industry Museum, FutureEverything, ELEKTRA / Arsenal Contemporary Art, Montreal and Carolina Performing Arts – University of North Carolina at Chapel Hill. Produced by Manchester International Festival and curated with FutureEverything and Science and Industry Museum. Supported by Wellcome. Accompanied by an education programme supported by The Granada Foundation.