Food at Underneath the Stars Festival 2017
Gemma Gibb, Associate Editor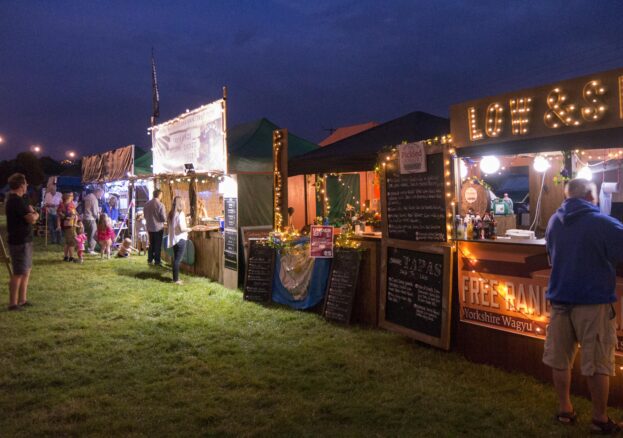 This convivial and fiercely independent family-friendly music and arts festival has garnered a well-deserved reputation in its four short years of being a feast for the belly as well as the ears and mind.
As if being situated on the site of the award-winning Cannon Hall Open Farm wasn't enough  – a foodie destination in its own right with its restaurant, deli, farm-shop and bakery serving up artisan pies, bread and organic meat galore (20 varieties of sausages and Best Beef Butcher in Britain dontcha know?) all manner of glorious grub can be found within the festival site itself.
There is a celebration of award-winning fine Yorkshire produce and street-food vendors in a charming and bonkers selection of vintage converted vehicles. We can't wait to get our chops around Pizza Loco's trademarked "Yorkshirepolitan Pizza" which is cooked in a train (really).  Other regional highlights include Yummy Yorkshire ice-cream, fresh Thai food from Leeds-based Bang Wok and locally sourced gourmet burgers from Hacking Hill Farm and The Reel Beef Burger Company.
Elsewhere, festivalgoers can refuel with raw vegan energy boosting nourishment from Amrutha, and with range of wholesome oat-based cakes and other products from Oatopia.  Castaway Kitchen will be cooking up a storm with Mediterranean munchies from its beach shack and spice fiends can be satiated at Tandoori Naan Hut.
We love that fast fixes have been catered for too while not skimping on quality. Seek out festival chips from the gods from Fryer Engine (vintage Fire Engine), Little Expresso Company's artisan coffee and cakes from Silver Apples Bakery and Los Churros Amigos's churros and melted Belgian chocolate.  Tummy rumbling yet?