Factory International presents Lost and Found at Aviva Studios
Kristy Stott, Theatre Editor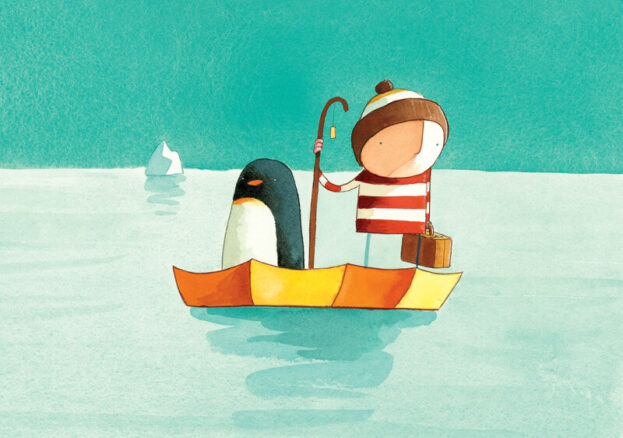 Based on the bestselling book by children's author Oliver Jeffers, Lost and Found is a heart-warming stage adaptation by the BAFTA-winning TV and film producer Will Brenton. We're thrilled that this cherished story of friendship – for the whole family – will play out at Aviva Studios, home of Factory International this Christmas.
First published in 2005, Lost and Found has moved the hearts of families and young readers with its touching tale of friendship and loneliness. Perfectly pitched for preschoolers and packed with heart, the picture book won the Nestlé Smarties Book Prize Gold Award and was the Blue Peter Book of the Year before it was adapted into a short film by studio AKA in 2008.
A beautifully simple and magical story, Lost and Found tells the story of a small boy who finds a penguin standing at his door. He didn't know where the penguin had come from or who it belonged to, but the penguin looked sad and the boy thought it must be lost. Together the two newfound friends embark on an epic journey by rowboat all the way to the South Pole as the boy attempts to return the wandering penguin to its homeland. As they travel across high seas encountering obstacles along the way, the boy realises what he's really lost… and found.
Adapted by Will Brenton, creator, writer and producer of award-winning children's TV programming, Lost and Found promises to be a visual delight on stage. With clever puppetry and video projections alongside colourful characters and lots of surprises, this wonderful seasonal show is recommended festive viewing for families with children aged 3+. The show also incorporates a beautiful original musical score by Gruff Rhys, recognisable as the guitarist and vocalist of Super Furry Animals, as well as for his award-winning film and theatre scores.
Fans of the book – young and old – will see the charming simplicity of Jeffers' original illustrations in Jean Chan's dream-like watercolour set and costume design. Meanwhile, puppetry director Olly Taylor's eye-catching puppet design will peel Jeffers' iconic characters from off the page and onto the stage.
Director, Will Brenton told us, "Lost and Found is a beautiful story simply told. Oliver's work tells and shows us only what we need to see, and by doing so creates innumerable personal versions of the tale for each person who reads it. I wanted to take that clarity and simplicity and bring it to the stage in a way that keeps the purity of the story and allows each person to make it their own. For me, this story is not just about a Penguin who is far from home, but someone searching for something that is missing in their life. Together with Factory International, bringing this show to their new venue is very exciting."